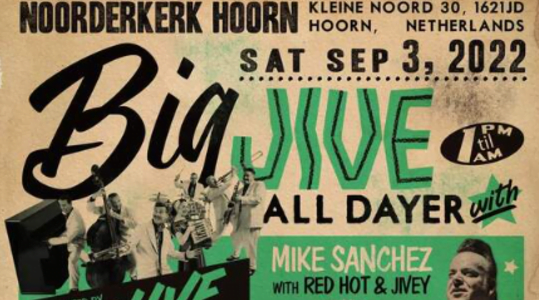 Uniek in Nederland!. 
5 top bands uit Europa
3 top Dj's uit Europa
Alles jaren 50 / 60 etc
Vintage sales, vintage kappers, Sieraden en nog meer!. Horeca hapje/ drankje aanwezig.
Kaarten via:
www.pelikaan-vintage-evenementen.nl
                Of 
www.facebook.com/pelikaanvintage
Kijk op onze site of Facebook pagina voor meer info, video's en veel meer.
<img src="data:image/png;base64,iVBORw0KGgoAAAANSUhEUgAAAbMAAAJkCAYAAACbPs+NAAAgAElEQVR4nGS9W6xl2XWe9415WWvtyzmnbt1dfSGbbJKhKJKyJMu6UpEVxoocxUYgA0FiGDCMXAAjzmue85LHwA9BEuQhAgLEiePEghJJViJLjkTCFMW7SIqXZlPipdm8dHdV1+Wcvddac86RhzHn3KekAg67WFV777XnmnOMf/z/P8aSP/i1/0JLKcQ4cHV1BSgiDlCc84jAuq4sy0opBecE5zw5ZwC8d4gIORdijOScyTkjAs45VBWKIor9UkVE8CHgnCPnzLrae3vvCD6ASH1/RRAAcimUnEGEIUZyKaDaPyPnTAwRUGifBYjIX/q9iOCcQ5xDS2FeZtKaEBFEhKKFcRgpWliWlRgC290WLcphPhJitPexT+v/9fX75FJQVYL3hBAopZBLwXvf/21bC/t9+5PTtaoKTnz9flBKJiW7xhhjv1ZVULXPU00UzQj2/RAhp/TENbbvLyI4EVCl5EKq6+2cs+sUQRDE2X8VRYuSUiLnTIjR3lMVBJzzBO8pqgggzoEqa1opRRHB3k8ERLBbYdepdb0Qsf0ljnVdcc6RUkJRttut7a+UKVooRckp1X1j62z7zt4fVYoWtCjiHDEEcinklAghIM6R0ooWxYeA9w6AUgqlFARhWRcEYbPZEELgeDxyWGbE2xqhULT0Ncs52/fQ0x5zzpHWta9534/1+4KScyGEwDgMKLDMC+D7uoUQcOLs+9TzIyK2r7KdG+89pRRSSra36xkehrGf4ZQSQD/XJa+oZrzz5JL72grCtJlY17WvqXO+r493Dh8CqJKLfWfvPDFGUk6UXOzfaqHk0s+oon1dvPe271Iil1z3gqBFyaXgvKOoUkqpccb3NW7nCpG+HqrarxcgeN/3oA+hf38BnLfvH1yo38nODAIlF3LJOOdJaaXkUvcUaFGcd/3f2hlyiJP6ukIMAYS+lk48RT2l2HpYeKoxsN2HYvvZzmb7H/r9CiHU2CEcDge22w1rSszzzDiMgJ1LFHJKIIKv59/2sn1n32OeUup9u35vc86knOz+TxOlnGJZO7u238K1/Wdrl0u29XHutF6qqDqWVXnw4C2WZeHOnVtc3DjneDxQSkIEfBBiDDgnfT+4FgrbuWm/B+Iw4EQQ53AiXF5eMsRAEHGUkliXhXmecc6CZT1xqEoPOs7VAFqUGCNOpH7ZUg8Y9acFqxrs6gFvC+tD6GFbACdCqYvZPivG2IM/WDJL64qq2iZvgaMGzrbZ7ZrtpxQ7TD4EfAuMNQEigivFAryCOCGGSIgBVWxh14RqsQNaA1wLnFpf664Frfl47EmNmiwUSDmxLBbQhhjxNfCmdbXE5CyQaj24LUkVPf1/ETklGdvxp82P1IBVUIukSN1U6j3LsvSg5OtaOefwzuNEmPNc38uCznycmaapZ0DltJ6q2jdRD8wtmdXErShOXNtB5JRPr69rJk56kBMnOBxa1yCR8MGCc6n7J6dsAQwLKnbf5VqCpN5X+s5qQUe11MRW+p7p/8bZodRSLEC112GBrRRLNO27hhBoECRE+/OcMuuy4sM1sFIPcy65BkD7w+uHsJ2PYHmRlLMd1hgBR0q5J1dsOW0fipwCnFjAbiAy1+Rx+tVAqTzx3e21ipYW+Oo5UPv+pRRyMgDlvSf4gA+B+Xi0NQFwDqn3KJeCLouBTCAET3QDBDWgVAO53S9nSSDY57rielJoyUwFQgUludh3ChUAuxpotILEtq+HYeiA93owH4bBYlBdb1sf7UAq13UWZ9cmp03UX2OAuTDVaxDXgqz0feOcwwc7BzLVfZEy07Aht8Sdcz9HSmmXhbhTcrRkmAxCKuScrAhwQtGMc8I4RHJOlhDqmhS1PeyEJ67Prr8mTC01MVDjZQ2AqjgHgwsokPNqBUSN2XIt9jwBytpJEkGlgo+eAwQRZVmO3Lp1i3k+8vDRI+blyG63rYk8I8WBWgwZBmeFkLfCoNT1aud1WSxWxRjxzmJGjBHnICzLYmg1BgwlKkJCnNSAYF+2JQvnHPM898CqKKWcUpMFXfdEwAXF1YPcEEIuhbwsuBqke7XTqoaKqlKtdNqiat1ctgFsg/sQ7L17BoVcsgUDzXXzcwqmtEBjyCKEQJRoATcXnPcs80IIgd12Z2i1BZAQbKFbkIEe2ENN8C05lZIpuTAMIyFEQ811DcECt+tJuG1a22TznCqC+wvV0rVN1NehIvyiGS35ib8vpdg11TVqybgl+JyyHYaK0sq1AIEIRbUGjVZxG9BogVxLrRScY1mXnvRb4Gl7pgXHXr0U6nsutreC7wevvYeqIWzEAEE5WKWlagi5lZodIQfp19kAig++o1balmz3y3urAIod9p5sRDgej/jgcepqdVkIMTLFwJoTaU0Ucq2a7HWhB4drMQJFa4Jpa07bx/X+hxCuVRYWxEKwyiyljEghBN+RsX3nBvhO1WRjN3qSqwH7esViyBlyrkyHZlp1mEvu1WCe86kq865WLRZYXL0n0kAJVmVMm6nvSVUlrYllXSvSdnXvW4DNOdfA6/DRkqVUZF6WFeddB4NOtceOBiTXVNminO0+DSMxBEoFcS1+5HZO5BqQqCC5VbINUHnnKxARhiHivevAKZdCSvZdbO/Y/m7VZVvbtFbmolYvrZosdd9e37Pe+SfoHUvU7gSqGtNTz4wrrset4IN936L44MHZ/tHGjFyrZq5tR6SuxfXo3JNFXbdSCvPxaGtV92vOmawJcB18ilRmzglOhZLlib1onykMgwcyPjj2+w0CPH78iBg90zSy2+3YbregyuXVJcuyVEBn0dr2vusgH4RSQLISgmO73aFlJdiNMCTdqBNxgveBYYi26ZNWKqsAjmGIld7SWqJKvXjtN8HXUj5nhwOC8x3leu9J68pxPmXZ0Kq1a0kpl2y0VQvILcDmjNQgGWoFByB6CuyNFtBSK6vVaCl/PZDXwB+HAQGWZbGEU18Th4FxGCrt4Ppmz5oNKbWEUauHs/2elJJVQhVNjtNQKR2jZ7Qmh4YQfU3I6Kmi9D4wTaGjtuv0o1zbcO3vWsXsy0oRnggoWkqndNv7rxUhtu8Ugu8UT68MhI7gtFd/9lnB+37oWtWGFtZKRbcqwACSGPUShBLKCZWq3Y/j8WhJ2wkhRHwFHq0qDsGCSqOi1dDMaT1qArQDXq+r57lTshep1Z8z8OGdI9O3CrREioJKZwYQWJe108YIaNaaCKwKD973RCZiDEb7VUqhyAm0NDSZr+1hJ4JWEKhq52Rd157cDBhEYhwQWToF36qudr9bZdwqyQYK5nnpybqBoZzt3McKzpzU+1ZKp4F99n39rMpIhOAZ2nmt+6EF6HVZe1Jw4k5Ufk7gqBKFq4WAXruedgcMlITgSTmz1HNv90FY14VxnHDevnMJhXytSnUiVi3WGJIrjd9i119kUiRlCKC+shS+JotUgXClP6W9R9EK8unfof047xmGgZRTT0AhRsZh4PHlgQaUwhA7oE2VJm+/GmNh6xpRDaSUWNdUGa0T81S0VvyiRpG7xuxopQ/bNVZa0J0o0X7df4HhaBWncwLj2L+rsUhWpYcQrcp20nBhZ0YEh3OQy4muVYXdfs/V1YF1PTIMA+M4oBSO84HD4ZIHD95is9lwdrZnu9syjoPFYStXbbkrA3B2dm4MXY1vKWVCGKywaVqC8w7nvOlWfaO6jtSuB4YQIvM894PjnDeKSxtac/3gOpcRFRx0jSOEQBwGqAi4lMKyLIZUnSMOg71WKnVQ0U3O2Wg87zudZ2jVytFwvXq5Ro/13Uc9ULXiSCkRfGBdFhTj/TebjSXJ1Q6IaXNWAmvlpkv97FN1agF2nmeoFVpoO1QbuhamzQYthWVd0bT2Ck5a1mgB2gnB+Q4Y+p9L08ka7WeVm6q7tnlPyOz6a7h2PQDFIi1SK0HnvPHtwBjssxv6Dj4YFdYOAafPLzn3ynWapnqPbC2DD/0w2Nq7rimoQvHeDvZ16uIa/6zFEHkMsVdfWqt17/9ytaeqhBAYxtGC67qyVt1LnECpwcw7C1xtTyN/KTiFGJ94T4WeiL0IhIiqaXAln4KueKs2bA9a8BuG4ZTAG9Ve905LXHbfnaFYhZSsWioVcLXEYZSKu7YHyil4NgqsBYBKcxoobRq37xUzatqE3YNS19x1mi651MFJD1g1wGip+4ATM7GmFV2VLLkDzBNIpV+TEwOhrmpNy7qQ0mr7LARbr3VlPR5BhHGacCKkdeVwdUWIgeAD0zj19RQwUFnLnHYmTecP/QLan6taReNESDnV+1tfb9mr30dxDlepsCbBZBPB+pr6qtENfmBZVtK6GoUmJi00DHaSY7T/tDNeVJAilX4rvYr2/iS9mDacTonWWcKyfW0VklY60ZJegZIILuCcxZa2r6TuOe9OoIoKaEo5aWJWuVLX3fdqrMk4Iif6XpyzwsUJkmydluXIZjsQo9RKuLDbbblx44x1Xbk6XJHWlXv37vPmvXsADMPAdrtlu90yjmNlNKRWn8a4UGO4qsWWoMAwxE61lNJKOUPHxgFPXF5esa4rMQ5dTG3ovmkZpWTGcexJsNRAQFFKysRhIIRAWlfmZelUz1qTXDuIKSUydAQjziFacPhT9VZL8KYzmfgaq/6Re5BqtGYLfK3cb6aRYRg4Ho+2WaaTsWIYh1P1oRWB1PeTuthSA7WrCex4OJyqgJrktFUMjU6sQcw3dFkDZAiR/ThagMyFtBYaL9bQz/WfhnBP16cM4wAY4ir1Jk7T2JNi0xjQa7RxLd3t4BlN6oNnrZVRq9gb3dAolVgD9Lqe9Ljj4YjznhhCNVlINVj4Tn11qso5Qt0PirIslnRitO8gCIsulFrBbodtFagzsdFPAgR6svLOVzTZUKcFpDhEnDgSCcHRYl6jglyvllJlJhzLPHcKqOuADXw4IYhH1VUzSjklu2XpAdmHgKv7rL1Hu1ZNpwpVVRliZJzGfmBJuSZBu64WCLupCjr10oJcM8HYe9KD0TAMPXG2e5mS6WtJM75R+D2hn4xejXUREcYKEnrir99H69mIIT5RETfkH2OsbEA5VRFaMClIO3WcyXYfxfekbeejUFQYxpHD4VDfp4KjShu2vWkA7/Q9W7xp1VgLbr7+XpwjOpMASs4478381XWtBjZDlUKqLpQLpd2Ta9WDjxHvM/NcyMfZpMJ+hqTrmu3/i5z0TaPnMrlc1/UEcb7Vh3gvNAG17YX2vZ0TQrB92WILlalZ1wXVQIzN7KSVjj+Zb1xLUFquJdzGwJ322xM/rhUP9fMa+MGYtXVdiMOIk0AcAsMQcN6zrivH+UjwnvPzc4vhFZgu68Ll5aUZO4aBaZrYbrfsdzumzQYnjqvDFfOy9D25mqbuK6+eekV2PB7IOTNNE079iYsVYZ6P3f3SNmE7ZC0gGSe+Vi0toLmQ12SovCae5lZregHU92kayzWDBzU1+Sqkp+rQs6rA0HvOmePxYAdI6O6fphm1EjrnxDybCSXG2EX+VlKnnCCDd57i2s2Ekisd6kN3cFEDv1W0Hl+/SzMunBCtnMwTFmq76cU51xGpAFmfpBS9D32TtaTR1qwFkxCMIjkeLhmnkViriqYHUJNursegrXvwvq+zSKCyaJW/Nw68Ln1H+0/ofVV0P9Eqoa8FcqKfWmBxzhNj6AkiV7G+BVLTUCy53rx5k8tL489LRZiNajSAIrhaMTWkHWKoTq3Sk7nzdo3OOUKJXcdMyXRho+6kU7+q4GvCapqGAaSTTme0VT3k6lB/cntdD1DaTAW1UsipmhPwPaC6eg8MnBlDcTgcK9U5dLq+BcJ2PztVdq3qbtTY9WTWgGdjXRoYaffFV2pWRLr7sO1vo6VcDWbSXZVPMh7QtIx2pq+bW3qlVEGU0bC+BloL2qMbqz7sGquEFnMG2roliireOYtJtbrmJEF16vj6r5Zoiiqh/f4azW2Mi3RQk6hmlxi6ael69W7xb6ZrbDRjD11fyimZQa7tTTEwIg68nBKYxZWTwcsqWd/NbbaHc9eknXd47+rZ9ddAmJJSIC2mVwd3MlKVIhQ9fe+ucTpBxBNCu7cO56Wey0av2nXnUmoxoKS04L0BQ1fPnVWJpvE2gN7u/zSOxBhMW46uf88QAuvqa2FhRVOLVT54zjfnXFxcsMwm+1xeXXH/3v2+7nfvPsvF+TnnZ+fEGHn46BGH4xUhp8wxzaSUGGIEB48fPyalzFARyvF4IITIECPH+UiMQ69s2h3zzp+cSDRRUShlQXNBuw23dDRpIvFaNQPXA1wTebuIaJGj275PxOH1ZEdHJ82VKCLIspwQYojMy8y8zIzANE2syarPGKMlt+760Sc2vdRk6L0ja6kUpSfWErgdtmYnvq6lXU+m5n4S1Gl3UzYaZV6MbpGK5EKI1YbfWhiWJ+glbRVW1b1mORkotJjAn2syT9XK650jTlNdY63uN6uQT4eg2W8bPeg7125uTxP3FRgqgkbhbH/WLd69tUIsSGtRXHSM48au9ThzOB46FWlFifRqrqHiGg+6wWBdm9Zz0kq7ndc5VAzMSLmmaVZ7dQwBkciyLicr8bVk0JJAzhnvzRDlxBGGCGpaowg4PKmka0CgaQbCEAacNyMAxZgJH23fHWqQ8lVjc96oEsWoU6d2zwxQ2OE3I8JUTUFzf32vzjnRnycqvQn3Ae8Dh8MV3lfavIK3GAPBO4R6XmuF2dal0WaCEqve0ujoTt1cP3taKMVXRF+rCrN9cTwcWNMKldlowLUzHR3Q2JlpQIzK3BACklsLgDsB3lKQBhqd4CVATdZSk1hRZRzHE/VqC2axRBUhdHDXzmZ9gxPIoulC0sHAdTNPa1dogL6UYmyA85gb+mgJTXgCaJoxxhKLtdTYXne+Gq9yObFf0ROi7wBeiwEps/erJaNG09RDI2JnIOVUq7jCssw9gY3D2KlM53rt16utnFfEmRaopXA8zv36QvT2maInDVdNs1tTbZvyjjgEitprXKVY216dppFlWVnmU0uAKhwPjznOM5tp4vz8nN3+zEBEKawpcf/efV799quICOfn59y6dZth2hCaHdg5u1khBM7OzphrVrQDNfQDu9lsOlJryKBVKWbGaG6ik1jpxOFCEzwzIRgtklLqDsBmvTdKJneBr7kYWxZTaoCoCIS6mRUYqo7RqsOWZDO5I5O2mRCYl4UYAnHaEIfIMFjJakiw1I0iPbC2nq+GMESMx8/VyBGHoSfkvumuUXrXK7VG5+S6YbXqGA1Jqtj1GyVHRWXjNdfaSZxHjAc/v7gg59SFZVf1z5QzOSXSukLtUWtL2vh809lA/MmGXnLp+lfrpTEEahVjE2WdOMZptCSsvhs92utbgJUqehviM8dX+/s4tN49u2cp294LMVSNtGqPYImmH4pmyZfe8yLicEHwtXI1OlopzvSuU+AyqrEh8OBD702jVoM4qaYUMbor20FtaNLyjq3JXNd4GAbTTYPHS1sv39fazoixD0vVy4wmjIzDyHYLy2LVVKvErzse/2JVdv2/1/WzBtBMSzslv+4K04R5BipgaxWCp5qSOCWAHtj1BMqeOKOWeNs9PNGNZqf2Gur5C3bOtPYg5tyt5fZep4SPancPNnr/ukbWvk+z4ee0dl3POQedwg8dDAOUWom3lgKXT3ZyRTtb084oGFXYqNq29m3fncqz2p9V90ljZ5phpZ8DGmByPcY0ZzX1fWNzA5dT3Ci5apE5m7mlrk+Lbb4aWEouZC2d3u6fK6BrBQnB97UWJ0ToPodGGcYYqyt8BTUDihlB1r4rLEGH/jm+fk4750omDI6cFzLVrJWr1l0KJdseaaDdKlFnRhOksg3a+xUFYRw3jNOGUgpXl1d8+9vfZtptCaWUqqtoR+Q3b97kcDjy6NFDQNlud6zrwrqu9fcm1pZQrtEcWstK09+8185RaymEa31IzXWUc2Ya7bPlmrOnBc1WhYgzjFeqFtJ0MwEL+vX3wzBY0K6OoieND5Vjr/qJWXsXkGhJuCJO5xzFCV6bqCudeuk0kXcM40DJhXmebcOOI9FX4RPIIki51jfWA0J1M9bD0pofvfdM42i007pWC3ZhXfWJgNYOkvfNoViq/rGSDksX9IeatHIFBsNohptYg1wLWl5Ojd6uJo/gQ0XSJ91DK5DQnBGsElyWwros1uMzDidtQsxgUaTpSdp7AI/HI9bgHuxwLKfE27SYdvjNqOA6Bbeui7kbaw9ayicU3pJW+2xX6Syp1FRfe8BzohAFWyOH61pvN6yoOwVazGWqajrt9QZ4O8DutJY5Mw6DJcprQWpoQnZLvAKbBnL659h7Gv3pOm3YEp4FNlcroFMSa79vQOYU4AxZN6mg7SHrPXySKrT+L+ltOQ1B+9qw3SpscacA3kwGVjVVHZhr/ZEYI9KSX9OKUKv2iisnF1+l8tQrrup/17+HiOBrPKAmhAYcuZbofDglm7b+DVy2X401aX9/ihXSg7Ltlwb85HQdTk7gQEAkdO1+2tQge3VJqW0vMcZKOdd4KI0Stb40EYfkTJFT+4H18p30xFY1Ny3a6SnutWrsL+2H+pVi7W1toMq8CqFr0E/oa3X/NxaGBMfDEWp8jWGw9SunlgQDWm3PmQu+mY5yWSttqU+0jITQ6HXPOI127lImaa7vnbtmazKLGUBK1xNtrfb7M0CZ10zorhgxzh3mXg1tpk2tvEqnXUrOZkeOoQYVq9JSsmkDFhDWjsJEHOts5ek4jpZAOInZsR60Fmhbs68A1M0o7eaXQq7lq6t0Q6N5pAqm7Ua1jdZQVgvwrZpsmwxadaL935m9+xQcWp9S2xQ0+6z33dbfHJZNMb5OA7Vf1ynCEy9+7YCVa936qqDSG6cbrXt639MGNkHXc3U44ivKoh6IZbY+rs20YZo2J0QrgtTk0Q6p9Us1N1sLTE0zsI/sUwJqs26jV8x0UsipPHFtIicXYknVRXWtqooxVgrh1Pgbh8hS6ZUYolWYQ+j9JlaZVH2nrWMpT1p5a5CVolB7wSyAFfTkhu4omrYurrahFO0UWBsM4H3VI3Ldj9cmsbRfzV1liD9XHeG030Ow/ZWcQ8vJzVlq1dV6wsZhyxAjRU+TRVpjetsrFjwcIVjibi0ardG5Ba62b6736ljlc6og2v3QBhxLdfF6h3hHEA+kWsGfzlvLvlqUUl1tTbfuCdKbG/A0ucUcsAYETgyDcx4f7ey1c9H2l1Qd/TrF2M5EixG0n1a15FypYatqlFP1UcQ0okZvUmNM08471a1P7uWhTmlpjeatWii1ck81lnnnUW8f4OPJY1CK9dc1m72vE0VKUZSCiKeFjfZnzU3o8RyOhx7nGkNhSagCCAQfHM7HXjGdTEOWRGzfZ+IQCHV/tf1pMfA0pSUlo45RczNO47ZT8cu61MLDWjfmeWZZZpxzTNNIzp7jnPHBzoMBqYBzufbdZmIYcC5wPM6dWh7HkRhNB43RbPq2Zyx2DsNYteCVECLruuB8IIzjaB3ytPLPXhhi4Oz8HFXlcDgwTSZGX15dEYcRH61forSOcirv2mhnEWjjmLCej+g94n3XMHxNXia7SXUCVXEYRXIG73Ch8vfZkpwL8TS1gEY5wKNHj7tQ7SWCmsulqBLjQByNpsvrSgiBaRqZ5yNxCKcRVNGT64ZuVFlRQ+LTZsDHgTklcrXDTpsB1//t2vnsfsg59WU19NJdbQhDCMQ41OpDEbUkW6L2yqEfrB54atOrVsrHW7vEMxd3mOeFdUn2XuIIccAa8BTfuPBUKFnwvayX04gioCQbb+ak3Yt6fyWDLMzpiCYY4shm3CBio5G22x0pr9bXp+BdxIVIWjNzbb3wwZo9Gz282U44qWaFmuSceLZnFxXxW3NyKSuiDSU7vB9Qp4hLLMsRLZlQzRx14SrNCSld9e/Y6JYWiFuV3F7X8lLKyYwaCqVWgN57Ssp4F2p10kwZRn3mnPHBUHjrDRqHgYxidp+6N7y9VyrKuqw0E1ZwDgme4pyBksGScLPuqzs5KtdklXIDdSLWNymVfUCVklNvnRjHsVOVFhAiMkZySZ3yMarRvv/l5aVVVWI0a9OqsphxA1cpNIRSDLDEMPTWjGbzFoRpN7CkBVQZgrEgaV1ZVzN2KFapKQ71JlWUtPZhCNaGYcadnDLUfk9BCd6h1/r6WtDWYgMESk7WMnKtSumTanK2nsFie867iKsTMI51AEDRgtTeRARi3NRKqE7bwFmAFiGlwnwA58H7ATfYdCXfRlzlQl5b7KtMUIsLaSUdZ4pbYBzxcehgTWpVE4Inr0vX+OIwdDPNfDxYIm2aonc03TWESFrNuxC8R5TaOlDHngWHeMFHi1MlFdKcSIvRgN5HimSSFOa02P73QiCSxbTz7W5knEauDlfWBD8MuFLImvCBCrCqxCG2RxSLS0qt7gXGcSCGwDLPdQCC5ZXdfkOMkaVOTXr08FHtO4yE4Cg4wnXqYlkWHj9+xM2bt1jXxPF46DPxpBo0FNDoWdW0HCe+ZtDA4erANNkcu3lJqAprghBHYhvz4gPLaqaMECIuBAZxuCqIZlXEeZwr+CCI94QwgDjWnJGcyQprSYxDREtmWY5E7zk739MNFmIlqh9qXimFec14J4zTaG7FksllYU3WdyXOk1GyYIsWPNuznW3k2iidNKHRfExiaRpBiR5SSWY8EENGSCAVtT479ajWwLGadujEuGspghAIeLQ41oOSx0SYvFGVCtOwqb02qWUW1EGRTEHJmrmaH4I6xAVKCZRsyG6aPGs+oGSmzZ6UHGlxjGHEqXK4OqAIY9zgnec4H9EaoNqQAoDoLY4pK4ENQUY8A55s0zf0ihAyflCyelLJzBlctOZzURPsnQhewAs4CrvtiBZIlV5ICXzYI1pQjogccGJUdVqEtBZUFB8D4xBr/4ojz4kQhprAHSnbOKFWoVBqYKgoVKqOMoxmF1ZcbScxUV0wRD9tBjbTyNXlFfoMrugAACAASURBVI8uj9y++zzH40xW5eGjS968d59nn32O/dkeAYJ3rMtsgQcBKXgxZ9m6LCyq+DDUZt9AyYm8rnhnupNznlRgnQ+m67XqtwrswzAyTgMpK4gjq+mJw2bLusx4a+okryvDNHE4XOLJBOft84qQcqZYiYCII4oZERoN7ufEGDzBATlTUmIIjjx6FskoBe8CziA0mmzEnRQLikMYKFk5LEcO6wEkM8TINAacQj6uOFWGOCJ+oDhPUqH4YLMvRSglIVilMMTIdjATTIwDpWTWbNXJuq4caltMKbYXN9MGEWFdrbLPydU5miBYb1SsewAXiHFDLgFVhwsjxS8c0pFCriPoBC2JTZhwFFRtrqUl4gFKG/xgwRp3BHeFSosQEMbItN0CNjM1r8nAt3NEJtR7iykhUnxkGs0YpnmtMs9CsKOPVyXNKzjb39MwosGRipK0sJQ2As3hKrWcjkebSOQsYR2uCtPunLBVZpkpURict5aJFImYVLC6FbdR4jbAUdFslVmRggRnYNQZEpp2GwRhyQYGcI5SLLlTqdppmuporsK8HlA8YYyM2zNSKqS0EGI2OcBrd6bnkvBeORwuGcZALhGl1PaeQhjHiVzdLufn5+z3O8Zx5NGjx6aTFL3WIGxin3SextCKDRGWOhnAaBVfKzItJsiaOFnwTrpOVkrujbqhWk+puoZqss2ihVISVP0AlHEcyMlu6lrHF5WUOdvuKdmcYYaozC7fEOl8PNb3s2zvnTBEE+uLWmCw6y5M41AFf+vk92Egp5U1Z9QZEg5OCA7bYFVbyFkp6hAXwQVLRjnjsPl0RTO+JMSZvrPZBkQ8gkOL0Q25gHaG0mr8RgcbcIgUlKSW2FO2yiXU0hwC9M2T8T4T40TROv7HBSTYbLcQhWFsleiMqoCY3dYK5lMfkSFThw87vI5IiUj2UC225u6r1Slg9l+rkCmlUnylU5fmPShVwws4BNVKYy4zOPC+1L0R8eLwYsg+J3uDglVuqlV3k7pWruo9XoixNljWPSfFene8F7w70cbaLgpscGlLNGnleDiQ08rZ2Z7j8UjKmWmz4c7t23z1q19lM43cuHFuLEGlyYvaEOswVMpWq8W9DtN20lx95sJs45bEWcWecoZSum4IrlabBRvLYsYLh9qZrOejzVPFWT242V0DeVVzCs5TgFRsX9p9p7tgo3cMMRC9h5Lrvc2VMnX9PjqqNuVqxTdGPCYJiIPtZuRROuCHgVirVy0wjZOdGvGo86ylfva6olkYg92/vp4mlLOpmhTiGX2oPaq564mN9TAqzmjdXOp8xlpxm3U+EgTyuhqt7G30XVFjilxUptpYLz6DFFQKuKVW9Wtff3uB6ey2QBlctgrEFXLxlrSdP5ngquYq3WQiiA+1Ag61I9JinIq17wjWe9l0c2mGGVVcMAZIKuAUlKTW162qBmTGycwuqZCKsS8hChIdfthABF0V72C3m3A1tjg8xdvwi2EI5CXRZ9NWjc/ivoGqZrbJJCviRbqumnPBYU5MJ2Ljx+r1OoEYHOpC1c/NSR1alZm1mkhmYhxBYZ5n1srkhcYtl6KVipigUmNInZ9XMmW1hVuWmU1wlaoVpDiqFml6ypp6Bh6CDUzNebWgUF1W1g8EJWt19fjajX/SmLLlgP7eGG4mawHN+CprhegRmUy/qYhapc5zc3XaQ91vQ/QIvlINpjG41Ur2Rt/5agNe02o8dEtcIVgSUKXEAS+K12IIOCdSyfgqzPf5jE2n8MmSGQWv9iPVpagyo2qzy8Cba6rSteacAylKKmunJkUEaje/l2AcK44pZigOzYFSnDVs1iQzRpuMPs+JadgQh4HD1SVFM5ZvlFyOnXPv/Uhy+kwRYdVsxgEtOC049TQHYRwGUlGK2gw7rZSUVxtJ1nt7qp6iRVkWAyrGpQeGUXA+1o0s+CB1UG+ukzbM6WQtBMma6R1I8EibXGIwihAEcIiUqj2a9pUUSlLwjnGw6RD2slKrbUjrQklrDYvNsVsdcSVzdrZjHDfcu3ePi/M9d+8+BdociHZLemN/rq48YJim2uipncJ2TsG5DhpNZ6uzBZsmXPfWXEelifO1zcWdBm/XiRZ236xCV4wZgWumBwUVMSpO20SSFjANwK5eiM7jxUZtNXKiUKsZFTS35nWHHxyDtycp5JQ5zkebU6gZHRvt3hr0redKSxucbIEtegeth1DXTnme5q4qcYgcDgfAjCXrak8+uD74odnyvdh5JiXTpqrrtPTWgwarAF8bhQtISOiyYl6HTMorpVSqFzVaU9a2a0wGKFLpHUASKjPIQtFkLEM1M9Q3QVUZog1AzuuKOq0AxNWh64k2ZlVoTw9QNptNdzLbfNj21IAK4L0nNINQUXIxEO/GiegjQ/QMPrDZbpkPawfFdj9tJBlJ8XED2WKoV9tjOVVzjxqI0WYY4uRN0OpODc7h3UB25trM1VFtTw4w4DSMA7EWTK6yBs47SvYcD6nLAMVJf+pKe0KIE0fKicurS4Y4MU0DwZDxyaFio5Gki6fmgIpVeK4icxXxpWoMolaFiTMzdKmakVFS9QDJ6UekVh6uogjf5rad0GPTJUzYrxIcDu8geuPY13WttvOTfdT+zWlAppaVlE9CrvHXypIWUraFNWHaKp9SrHEwhkic4mnRLmfT95z1GA3euOlQx4A19GoHsD0GweHquBoVGyArvuAUox6dsOYZwVfqwyoUcR51kawY8vXYxqpGAhNsLYk0d5UQuLp8EyfB+s6cxw8B5wfm2ab2F7WEoNqmqwjLemUVDfRN4n3Ai1YUDiIK/V7XMVqlaU61KtCCj65eV50ZiAfn8TnbTHwxfc9oZDuQznujRdt0AR+IDtJS8K5SkVL1FGdGF6MDzTbvgus9UaX4PmbJBG2jSnO2yRISPcWfzCq1xqGN/mn9jE6EIQaOxwNOhM12C8DhaMFjGIwqDyFwdXjM+973Hm7cuODhw4dIqE+cEK09NnUwr7Ow5LxYcs2FkuswaVcNHNdAXW4TQhCbmqSKFupZbCOtrEdQ1Whxay/w/d9T9ec1a7/fcHIBQtVspFC9YjVoFDbjaM7ga+OCXH0qgGthvTaPC6CizNl6gZwI4yYyjoGUV2bJCLY3hjjgVFjnxZ4SIIbMfTv/wQwtZVlafVUrszqlpUAyDwXe256y2ZiBRKq9ey1hNEBUR/YpvRVoTclq+lDBYXD4KLgihCBkzTinqGYcC5RkVZRE1DnE1TFOgNb19W3AiBgkUrGeRCWyLBbIQx0qUHK2iSdAVguCvmrngpLSZdc32y+jTRdybo/jsQLDe1/ZkAp8Qm2udjYAYIijxbF55TAnSgTBs9t7ltVYhpwhZSWvmYCZ+CiWqHyIqAskMV+Ac66PjGu0NHIaMG+A3nUTzzAEcvZkHyzOVmwjCFLzgKrpylYIVE1Zc/2Mk5brfWC73eKD78ax8/MzW9s2fbsd5ja4dNpsiLXXp3V2p7RS0soQLRiLc1AwpKLCOBkfvC6plr9WFaSS8dET26Tpiml8iDaqRcT+rA/ytKzfREIVsSrMQ0qF4+UVLnhSLiiCjwOK47hknIPgheBNlwG6Hdn2mZWsKSXWXAg+oi4iWCIKIdhGS7WS8kIuJjK7MBjaLaUGVCGVhCYLTFM10hjy8JhyDDmLbQwnFALNLGkoRGt4CIgExA84HyvFVfDiiN6ha9V7qk29CpbkmoChMEzb+jiFSFGhJDv5KvY5uSjOD6g6coZh3HZw0Q5Lc3sd59kOb9uwFVHSquE8QA5oqfSvSq92xEWCG8CNIBMxzfhqCrFD7uv6CHEaT6Kctkb5gqP0JGlJLyAMlDJQsr/mKAUfzFRTSi2JajQzCk+JwVtfTp8sLFWHEorUZEapFZX9+WaaaFRVHK25XiWYiUgcjy8vSaUwjAM3blxwdXUJaLewU803JWckeEIdFSZi/VWaTzMaWylXENZczQWVxpHaXtDoZOccsTr6tCih0g6lUoo+BFIpJ3CZMkXokyCMxjcUaXSVdsSsa+p7/2y/79ZtxOExarRo01KltsGsZArqpBu8nOE4Y0t8ZPKjoXUfjUko4IIjUHvMfLX+azbKOgu+Nr9Dq0o9Wj8/DJO1amTTHp20yfSCkzoMWk+zFvv0HQ/oSf7IPpDrqKjszDRjWNThh0BJFSCEAGqeASPJLHGJs70K3qQBVdvjxfaTViDrg7O2ohrEey+XFqvalUr9D6hzaF5tNmadrlGaj0Acx3kxHcm1VG8/3leHpjtNJfH1Rthz3BzzspKWjBIZhwkXEgE1StsZgAohMA3RWFJ7F1wcTBfVgueAd9r741rLQGt16ZNTKoPRyGLxnuDqsx2zyQ0pp96XVuoTNHK23jszAtaiqNHvKhyPMyBcXV5xeXnJZtrYcA/N12nG0imONmnCNkOzdpobh5KtxwGpvD2oOlQC4sy2iph93ocB5zJpyaSCBZVSR0apPfMoxCcfAtcfRYKQi6BFbLyQt6nn3nnc6HAhUpbFKknnzZ031PYB7NJ8DAzRko89ikJrnnGoG3BxIBVDT4gjCIgLxud6e2LAvBRrJA6BVIR5SRzXwjQEtmMguoh4h8OzpGKaGSDOZsRlFdbkQG2cEOJRiVhO9ZVCMEdY0UAh4DRQ8KypoJ46WSSfEKqYvlen2tb74BDq8OISQazpEDxx8Myzcdlx2KDFkbIyjhNF6gP9MEdXLkLKSqFSU/W+tP8msSnwXsHjcBKswqbmp5DBg0okl0gujo0fiGKfuVZkXXKpoKbUvpRgVWxOlJyIkz85GbMa7SYCEoxTbz0rTimsFC0sufbgOUGwQbClMg8lrxyOM0sqeB8ZN1tcbbJXstGVYsmhPVHB1Wd4ZRzHVcluADzrnNid32BdjkybLcd5pk/dECFV4duJORPneem9N1CQkq/NyKvP8lNYixpAK4VNNV2ZMy1gz8NSXIFcLCm26Cg18Zu+IAYFJNTvt+J8qBVaojnoQvSIAy0J8QUplQXAqm8bJZRrUgxk8aSsODzR1WdJ1eowl4xk49jGMYKYVohYM7yqI4QJEcfhuJLWzBhHJEbT+SrocBgL4GuANmayaYoBxdoExnHLMs8s84EhDhRJHOe1ayynpn9bonle68zYSEqnlgZkIDWQVrxN969aoOI5rkc0J8YYqnM7UWRAsOk4RlPmCtICqgHVBsQL9k4ZzeDjaMG9PhvRZrsaICApKp5ZhfWYIM1syP1JBakIOMX5wGEthBpLg9SKVoQwDBDsocWlgTOkSkUFqbpTESgSKBI5ro8p5YAfd+BHY9y8Ob+pEzdEQMVTimfNyf5OV1K5pmm6QFbtQ7eR1q5isWopzQHsDZQUc1urWty1eZPtuZGpJvrT+DavakyetKezCMfZJJEbN28Sh8jV1YL/h//hX/+v2jOQWge5YJOknQjb3daetOtDLR/hbGOOsRBHiovcuPU0c1JcGJk2ZxQVtrszLi+vuLo6QIgkFfywYbM7Y7M9Y9zsSMUxp0xRz6PHB3bnN9juLxg2O3zcMGz2zEtiHDcIjqvHV+x2Z8xLwseJw5x5/f4jbj/zPI+uFjb7GxyXzLTZsSyrBWsV1lQYxy1x3LE9u0mY9vhxy+78Ftv9TXJNiCbQ5tqzE5jXxGZ/wWZ3wc2n7rJkIYxnhGmPc5E7T91FnGeeV+Y5gQQ2u3MujzOb3QXnt+6wZsjq2Z89RdaAysC4ueCwKGE8Y02BOJ4zr4GLW88xTDdxYcf+5h0Knjt3nuY4L8Rh4OLGBT94/XVciIRxw7DZcVgKw+aMgkd1JYSRNTt82BLjRBxHwhC4eec24hyXlwtnF0/h3IZhOqMwkBmYV8eaA+K3iN8wTDfIOrDmwM3bzzJtbyBhy41bT3F+6xabzQ2WBUoO4DxzWomjtS0M2y1Ldozbc+ZFkJR57tnn+MGbD/DjjmGzJ6knjBvitGG333cKBS2MMaJpJUZvxohhJKln3N4kThds97dQCYybkZRncjERuIRz9ue32O3POTu/YFkSmpUlGaLGDxxXZdrfYNpf8PDxkeOS2e3PeXx5YLfbsz+74I033ySE0QJMgjidgR+ZE+BGbtx+GnGB43Fhu93hnGdNmc12z6PLK9QNXM6JO8++gISJcXfOtD9HXKwDUSNXVwdSKsRhw7g942opbM5u4oYN4kcG70ml8ODxgeOSefrZ5zmume3+jO1uD8B8OJLWmds3b3A8Hrl1+zbH2ZL2bn/B1bxyduMW4/aMB48u8cOA94GLi3N7gvo48uDhI6bNhpu3bnI8HO0JEmr1xjBuWZLywjvfzbg9R+KG27ee4t4b9xAX8KG688TjQkS8Z9pu+c73fsDd518gq9GC+/PbIJGUheNc2O4vmDZ7VB3jdoePoWrUiWkzce/NNzjb7igqvHn/IU8/9wIZz5yEeS24MBmVKoHt1h4vstufkyoQu3X7KabNjnnNjNOWzXbPg0eXiI+s2RpsN9s92W04rgNvf/E9PHo8s9vdYLs9RyRS8IhEri5Xdme3iGHL+flTPLp03Lj1LJeXR5BgLRI6EOM5MZwxz8LFxR2KeiBwdUxcHRZu3LzJuq6Mg7EuTmAYR3KBOG4I05bt+U2OSe0ezJfgHLvzG0YNSmDc7Hnh7S/y+OpgbFXtW7y8vMQInkYlW6LxdS7pOE4sa8b5yPn5bc4ubnGYE3DFtIksGihuQ9GB42FlM46UdaZoJhVl3J6hfgN+g4j5A7IKx3nh2effTlYrPoo69uc3eHx5IMSRMIxs9mcQDejfuvMMDx9dstmesdtfEMeRR48vzaAzRnv6tGaL27lR2J02QnCM48h8XHj06BE+eN79rndxeXXF40cPkT/+3/5LbVWY6SMm6i21Ojs9st2GSjrN7AfhsCQykexG1uL44lde4Xvff4NpnBhiZL+d+OD7f5jz/Y4wTXzpa6/wyiuv9OkKu92On/u5n63jnBLjOPHqq6/yzW9+00pRtf6IF567y8V+w907N3l0/x77rSHhh5dXbM9vcO/hJS+/8mcsla4T4MUXnuNsM1CWI+f7Dbdv3eLlr32Nj/7rjxOmLeoHVDxh2PD40SV3bt1kNw287dmnedc73kZJNtF/u9vx8PGBj3zsj/n+m28xr5lpuwc8wcNyuOSlF5/np/7qjzMNwXQj79jt9/zJF7/In33jW5ydn3N5uTKNe5TMMASmaeLy6jFn+z3vetd7+M53vsvH/+gT5FT7U1xgYaawMg2e5599mpdefIFn7z5l9JcYjfnpz32Bb337u4ybvdGr5S0+/IsfZoxnfOqTf0JKmftvvcE4CYfjAz70oZ/h2Wffxle+/HW+/rVv8+hyZtrtTlPevWdNZnMex4kf+eAHuXf/Hh/5yEdODyAMGfxCcBtciZxNF7z00tt5z7tf5Lg84OxiAlf43Be/wje/+T1u3HgGHj9gGx0//hM/ycXtp/ijT36KB48e4WNgno+k+ZL3vOtF3veed3K8fMjghfVwsJ4/KYTNnmMSvvClP+d733/INN1gPhy4fXvLB97/Ik/dHvn2a6/xmS9+F+c8j+6/yY2zLR/84ffy/DNP8+DBA8bNlgePr3jlG9/iSy9/nZu3n6KUwsV+x9uef5bn7z5FPl6R15lnnrrNw4cPicPE6/fu883Xvs/VnHj4+Mqcuc7z1O2bvPfd74C08PjBfS7O9nz+85/nq698HRdHHh8TZzducXmY2Z2fc//+m7zrHS/y3ne9gxeefZrz7YYHb93Hh8CnPvsnfPu732ezv8DFiVISdy8mPviBDzBu9zx8fMXH/vgTVuHFQPTCc0/f5n3vfifL1UMGp1xdXXF+4xYuDFwuie35bd588JhPfvbzfO8Hr/MLv/ALvPMd7+Bzn/4Er736Lcbg+NEf/zEubtzgla99la99+U958fnneP/73ot3jsNhZi3CF770Mq/94B5ZPX6Y2IhjNw78zM/8NK+/8QM++7nPMk4jP/lTf43PfvbTiMC/+yt/k5e/9jLPPneXh48e8ZWvfJ3XX7/HX/mRH+P2naf51Cc/wxuvv05e19qWMfOudz7PS+94nsPVY3bTCDlbRRJG/vn//dt86Bf/bW4//RxF4epwYDke+PKffoFnn3mK9777JZbFGmdTWvnKV77Cyy9/DVVlu9nwtre9jQ988IOVctQ+LOGYJ777xmO+/OUv8dprr7LbjmymgQ/93M9wfrYnOEdaFlD47d/6LdNLp5vcfupp/o33vp3dPvL48gFPP32XL3z+K/zZK68yDFvT8CI8c/cW73nvO7k8PGS3GVgOV1yc7Tg8foRoYRgm1jUzJ+Ubr36Pr3/rNZasvPT807zv+RtcHWceXc0M2z2vff8NXvmzP+dwOHD3mad559te4Klb59w421HSbOMH1R4XgxTAtLQ4jLx5/wE3bz+DCxt+7/c/yuGQeduLL/FD7zoDveIqjfjxJi+/8iqf/fQnee7OOT/9Yz/MzYs9pTi+9PKrfOPVt5C45cUXznj3u99etVnlYx/7GPfv3+fu3bu8/4ffz+07t/sw5o//0cf57g9e40f+6gfZbc/42le/zr0338JhwxDO93vuPnOHO7cvKPlIjMZmXT56zBCmamDTbjISZ+O01jXx+utvkFLiA+//AA8fPuY4HwjW7Gk2+JzVnFVVUO0NurW/xR4pXjgeV9vY2wtmDXzu05/nf/lnv87rb2Tu3t1z9fgx8yX8x//gV/kbH/63eO0H9/mt//cP+cxnPkdKsK72o37Ph37+5/n+a6/xG7/xz/jc5z7H8ajkDHEQ7r+lPHPb80Pvfgf/3i//Dd7z0ou8+dZDbt68xVBG/td/+ht87Ruv8t0fvMnVkrn/Fty6BV7hg+99J//Oh/86N27c4d6DI5/49Bf5/T/8U8a949GxcDR9E+8881VmO8LGw3veeZdf/du/wjve8U7wG77xnW/ym//P/8e3vntpD3b0sM4wTTAEIaD87u99hJ//2Z/ml37pw2QtzI8Xfv23fpeP/uuvcH4BqoHt5iZXh8ektKCaOc6w33l+5Vf+Fm++eZ+PfvRjHK9WnAuUAo+XxI2bjuVQ2EwwDfD+972Tv/N3fpX3/dD7CMOG3/m9j/BHH/8Cyfo3eeoCnn/be1hm4b//H3+NlApvvXVJdbpycedpitvxf/7Gv+CPPvYZHj5Sxv3Yh5m2CSfeOX7wg/v88i9/mDt37vDrv/n7qJrzME4wJ3AFxgBlhrP9xEsvvcDf/vd/iR//iQ/io+djn/g8/8c//wT7PXAF8wz/7T9+id3DxP/wa/+Eb3zrHtU3w9kW/pO//7d4z0tvry0TMJztQeCYVrJ4Vhy//bt/yL/6gy9Xpyc8/9zEP/rP/x4/+iPv4DNf+BL/9X/zm3iB4yXcvQ3/8D/9u5x/6A7D9ia/87v/kn/5r/6Q773xFt9/0x7KmDPcvPA8+8wdfurH/wp/88O/yO0bd3jj3mN2u3M+/slP8bE//hRfeuXPeXg1c1iy6VClsImeD/+bP8vP/uSP8fbn7vL4eOS3fuf3+MG9t9ic3eCNB5c8vFp5eGlsrxO4c+NTXOxH3vful/j7f+/vst/t+Oar3+Gf/O//F9/5/iMSsGQ4HuDnf+I5bj39HHeeGfniy3/OP/7v/imbLeQV0gw/91Pv5B/9Z/+As2FEyNy+c4fjccbHEec885oo4vmDj36MP/jI17jzzPPcf/CY/+nX/mde/vIb/Ef/wYf40b/2U6zi+dz/T9WbRttV3neaz7vfd8/7jPfqSrqSADFKaEAISYBBzBLzYIMxjhM7ScUZnKGrOpW1OtW1ulYqq7u/9KpOV6XTSZVTceyUMY6NwQO2sY0NYQhgBkOQjNAsdK90h3PvGfa83737wz73OtEXfZLu0tY5+x3+v9/z/NNhHv/Sszzy0LVsvuSSurwtLaQyOXu+x1/+9+8Q5+A1oBrB7u3rueLKbfz8gxN86ctPs/mSaa7bfzNhDl/7+78nLOCGG2+kN0xpNCZ5/Kv/idNnFvi931+L21rP41//Fu+8M0u7AbYF0Qg+9dj1bLnyCoqyQFrm+PNlUxoW3/vhqxyfXeahRx5j7fr1WEGH946c4P/+f7/K9Xsv4X/7X/8dwsyYPXeOb33rW7zwwpsMhxAEMBrVvz/00du5af9+1q5bx/LyMs1Gg9dff5dvP/M8r79+iGYTHEeyMKd5/oVXePCBB9i7Zw9ZajB3bp4nvvYscVyPLgpd8MBDB7n3vjsAi6KyePnVt3niiZ8wvbbB4uIQQ0KzJblmzw4eefQepGzwC2GpoMzr8E6z2eQ7z/6Yv/3yUyxH4DctijDj1x/Zz95rP4Lb9JhfGvL0d3/Am2/PYFp1qGPP7ov41KOP4GoIh1FdqrbMerxRH2TGgYwKz/MIo5j5xTme/vYzHDmqufe+PWzdch9RFGKYAZm2+OZ3nuP1Vw/zO5+9F8v3sQOf737vWb7xzedZjgwGYYkp4OOP3MSdd95Fked8/elnOHtWs3//ZVx06VZ0b8gKhea7P/wJP/+gx6U7t+ObLl//1nc5dSLDNsfJWA2bL7S49aYb2L7jMnzDrFPiplUTVMTqmL6+FsYgKdJVoklRFMTjulUcxyjLMsmzeh5WVcW/wA1VK8M3sRKpHc+1xkPQJC+RnoswPdxGl46RYLoNmk6As07w07f+idtuP4DldRjEAsvrYgJWUXD+/IC0chilgq899X3+8dV3sEwH05W4pklRGqzxJEuLc7z17jGWl0L+p9/7bRp+h1FU8tWvP8Mzz76J13Jxm1OkYUxnrUBKQRYNOXzsLOfOPcmv/vInue66a0EGKEcRFwaFMFCejZB1ysk1cxwlEDrhxIfn+cLfPcFv/tZvsXbTxRhWAy0dvDaUwiTLS9pNj9FwGUspJtd0mV3o8aWvPAmmw6233kIYRyyHKZPrfZRpEUY5uRA0J9dg2yZhOKRaXiLWmrSqMByHSlnEd40PkgAAIABJREFUZY5p1PffvmcR64xG26XT9lnuzfGTl06wNPoffPazn+Wq3XtJtMRwbDzLRUlBli0h7YCTx44ziAosy6YzNUFvaZEb91/Ntp17UMpGGzZaWLTX+CSlxnccHMchTVPiKEYKgRk4xGWFsB2qcRdvlC+PB7OavADH9DGVySCJeO/IScKvPY3VaHDNvt1UykOYUCmLzpTN+TNDpD/JkdMznJkfEpUQuAKjrNi5awt7r71+HBIwSJIRWldIqy7TVpWk0V3LIK0oDGi3u5RFzihNUE6A5TWIclCuQlQGDUuTlZo4l1hel9dee40nvvZtzs1nJCU4gc3SKKXRcNHSZjms+LsnnkVKh4/edw/KbjEz1+PrTz/L+8dmWXfBNKbQNNe2mV9YYLLTJYuHvPjaO6Sp5rFHPoob+Nh+FydTxHlFVjkYtosjK0zLJo5ClsP66vQHP/4ZCIvP/MovU2CzNMxptCfIUcRFieWnHDs9w/IooTttszCIiHVdnJemBpVRKRvbbxL4FkUywhwnDUvqik1SgVQWUZpRGbA0HPHKq09z9PgCj37iFu677x6U5WC6DSppMoxB2R6WG+BYFoNhiGHaYLkkJVx381XcduAe/DJFZBFBu0tpKHIgLQVZJdFYnJ3T/MV/+wqF4bJ/f72gYfqE6QJZWd/kRIVBZ8rh4Y89xJbLN5PFfS6YnqgDHaZNnKXYhoUSkigtMF3Fj154H6PxIz7+iceYDLqU0iHoWDiNDqOkTlx+70fP841vvckVWzo8+qnb2LBhA71ej29/+9s8/vc/AunwqU99ChUXHD56im889U2OHDnLA/fdxHXX7yUvUn72s7f47ndf4ulvf4u109NsmN5EqSywXC67+ALuuftBvvjFL/Diy//IR27aR3eiQX/YR1kKz4c777kH3/cJoyGvvf4yP/rx23TXBBy84yZ8x2I4GuFIRV5ownEJ/6dvvImQ8Nnf+jRBe5L/80/+E6+89gbbd19L0J7grX94jbf+aYYd11zKnXfeyVe/8jivvH6SG2+YpdvZiukGeI41BgCXGELXuhlZ12pcxyFMNJ1ulzsO3snZuWewvIAw1XTXbKA3kHzt689y6IOzPPTxe7nr/o+Sh2eZmT/P9370PL0QHnrkYVx/DV/98l/x8mtvcd2Nt+H7Hvc++Ahf/OIToBy6Uxtqc/y4bjJKNFkJSSkQtkeOolIZ9z50kHazzWCpx49+8EOe+s6PsX2LXbuuJEpHOErVdKJ/wQitVzbTNMnSmjPquis0lnG8fwVlU435cysAyV8Qrk1s28Jx7LEkzac7MUnQbKMriLOS5VFMnFcMohzD8UkKOLewzKtvHuHsuQXySiHtFtrwSAqFsJo0ux2C9jp6g5wfPv8qlttlGFcot8MgKjl+ZpHFfkqYGsS5wVvvnuPnR06D4XHyzBxvv3OE7poulfSZ68VgNvFa61hYzshKm8rwOHW2z09efJ2FpZgoEyyPCvqjAsNqMogqFvoZ80sRswsjZheG5JgI5bLYjzj54TmirEQ5DVJtML8c0RulLA4S5pcjKsMlKxVpYRClFXEBT37ze4RZid+aoJQ2ptsgLQ28VhvlOZiei/QcCgOwTbQUFFKgpUS6NnbDQ3kuWBaFUKBcckw+PLfAKIXWpGA5jFnoj5B2gB20MCyfHJMwLTEsh1Giefvdn1MIiyirCFON2/A5cPf9tNespx9mVIZFgcKwHUpTgWUiXQdMRSZKCgPm+wnKdVCeS0qF5XtIx2Y50mgDlGOxNErISklrcj1ea5J3Dp/l58dO0RvEzC0OUI4g0YJS+RieQVhI3jp0jMoMcFtNtGGTlbBt5y4mp9YyGAyQ0sCxTboTXYJmCydokuQVWWnQD3NGKcz3Y3JhklcSaXu4zTZrN17IKDMIM4kTTJIUBkluUAqHbz3zIz44leE1PdzAw2tNIZ0A5XY5Oz+iNHxsP+CD4zN8OLuE35zim9/5EfO9kM2XXYbXXMsHJ87Tjyr6UcX8ckKqTVKtOHTkFB+e6+E3JlkeZpyZWeT0bI9UK6JcMkzg5NlF4lyR46CFi9fwef/oGVAeQWst0mqinBaJNumHJYlWDCI48eEsBZJBnCEsiPKK2YWM3gD6o5QkL0HW852s0OgiH7MtLUzLrqWQpk2m4alvfpsf/+Qdbth/Nfc/+BDKtJhbXCLMNFFWkpeQFmU9PhASlEVpWBRIcgGm38LvTmEHDTSQFAVpWRHnEOcleSUppU0h4NwC/Je//Bu+/9xLNCfWI+0AJ/CQlk9WKQwrwPTaKLcBpsvkuo0YpkNveYjluAhDIaRJlNSzosqwiHL41vdf5ItfeZK53oikNJhfykiKesM0O9/j+Rf/kfak4Pf/9b/l/oce4YptV3HTrQf4rc/9AZWEF//xpxw/PQOmyxtvv8d7h85y3b5d/MEffI5bb72J3dfs4l999te5/cAe3nh7ludeeB5Mk1SXhFnO2g0XcPWevXTXTDIMR+hK4wUuaZEiTckwhI0XbuSue+7mkUc/zn0P3E+u4bkfv0h/MKKsakwY47qJYztMTK7hrrvv5g//6I/Yun0nYZpjuvXGIslLhLI5/MFxDAvu++jH2b3vI9xy4C5SDW+98x5aSEohyXV9HVdDlas6oVvqGiNlGHiuT6czwbbtOxmOYHFpSCUtkhzOnl/i5dd+xiiG9Rsv4djJM3itJnbD5/qb9vHAx27jljsOcPW+6yilxTAuSLWgwOS2g/eAEgyjnDiviLOSrJRkpUGBogCk45NVBpgOsYbLrtzJVbuv496HHuG+hx6i14f33j9KJRXKcTFtBzl2PEpjhSdaF67NsU7JMAza7XadtkXgODYqSRNWFS7KXCVY172yepi4ojGxxvios7PncBsdtGHjBQ1KIRlGKcrxsdwGQijmz52n3fEYRQmd9S2SHGbPL9W6AVWvrHFW8cqrbyGUSz/M6A8Tpi9o0rUClDfJudnzeE4Dx5Y4KuKll3/Ktm1XMTe/zGJvRGGYtKamCXXI7Fyfdldhex2avs1w8RzSNDl3vocuDSw7wPVbOKaLclskS+fYsm0H1167h3feep35mdOkg0UW52IcCYUWCGljewHS8ihRKNMlcGym105jK4MPTx+nFAqv2cUpPE7PzPOD557nzrvvRqMYxhmWbZMUOfOLC7TaLZrNgFinmJ6JdBVBJ2BxcJaoiFGeiUASRSn7b76Dqam1vPLS8/SXYWqyxdkzpxid67M0DFlY6hNnmigrMC0bYUqkrShKg9n5HpqaXzcahtxxYD+bLrqEXj/EMB2QFqVQ9AZDDN9goT9PmNcsvlwUVAI6ax3shk1UREjXoDAKsOrr+Ct3XsXunft48Sf/yJFDR0mynCwPaTQtDNPFMD1SLchLg6zQzPUGhHFJLkxmF/pYXptcZ2TJkL3X72LPtddTlrVeqNQZpiGJ4pi0FJh+g9KQmK6Pcjzakx2KXGI5HoaAOC+Y6y2RaQhaa5BCYfsOvYVFssLgg2OnWe7HXHBBlzApyMqKweKQ1sQ0aZJy4eYtDMM+nYn1nDpznkGYIk2X02fOESWaBhb95ZDJqY30+jGG6YNyWB4u0/FtlgcRs+cXuXhzQlaAYbpMr1uL4TYZxgUHrruB5cGQY0c/YGlulmOnzrKu26A/TBiMMpIkJU4rHFth+S6yUNi2xNEpZ2bO4QYtglaXKAXTM3EbJSYlwrSRlkOaF0RRTNu3V8kn/eU+qjGBkDUWyw9g9tyQiy+d5DO/+ms0W02ScMD0xk2UpoM0HQyzTtx5frPmShqqfkmWgiSDZ77/Aj988Q2MfsjeHeu5dMtW/EYDIcG0XJqtCbxGByRcesU6/CDgb770BBsvvJylYUycaUrDQloeUao5cfocf/X5L1BkObYBv/LYHTz84EF0WVd2pLRq+onlkBQlza5g7aaL+dYzz+H4TbZtvQLTNcdBrg5H/uFlZuYSbrhhF5dt3U4cR0RpgVUKNl10CZdecSlHjx5lsT9CWi7nF5fwfLjvvgM0GjanTh0jySPWTa/n1jtu4icv/ZSFpXlMR5GVBTkVb733Ln/4R/8zx4+dYd/1l9BsBwhVYTmSokoRCuJ0SJwOUaZiz97dbLrQZXExJklTTMsCoWvYus4ZDEeMkpz10xvQyufP/r/P88rrhzEKuHzLViy3DkvNnF/AdG0M0+HM7HnWbbgAx683Ea3uJPOzH8K437mSshR1LBXKijAMKY0Sx/QpK3B96E6uQdkeR0+c4Mtf/RELvRElDv/5z/+KNV3Bv/n9T3Ddvh184pc+SZL7RFnAj7/3Eqc/jDlwxy4mptbjOE69IUoqDMsFaaFFjmk5SCrcRgstFhnFGUGuSYpyNU1p+w3mFhbZcuUOmp1v0h9FVIakrAws28FI0rruY1S18kZrdFGnULOxYToIAobDEa5bIxdVuUK4Hvd26iKbGBfp/qV+QpclphRMTnXQwiSNan1JNk7zWY7LOz87xOYLL6A7uY7Rco8fPPcCv3rpNizPwLYtPMvDsy2itI/vlCwsfojneeSZwQXTbRbPneHm/bsIOmt5/CtP0wqmyOMYadgsDHq0p1rM9mYRpoXntInDlDRc4u4DH2H7zu188W++TO/8kE6jg6JgadgnzEcoV5BmOTozKKM+ZDE37t3OJz9xDz9eY/HXnz9EmMa0J03yKMeQFdFwmbi/hMhzAsenFA5KFFx71TR333Uvf/35v+HNN99mev06NCbrpif44NgxbopjqhKMSkEmEVVK2xHcf+B69u65CsjqondeMT29mSfnF6mSDC3rsmauc2675Wr27d2NJUd89atPcvTYkDKD9ZMTtOxJXOFgCwNbguUKbMelKmJm5pdYHo3IyoSW79Jtetz2kZ00ZUI4igjsJuiCyjCIRzEeEldWPHTgZnZsvwLftzBNgVT1Ve+bbx/CtyzCMCfPLbq+w0d2buORj3+MyUabL/QeBzSjQUoSpWRRiijAtVyyTGNYAVLZ2G7F+bkex46eoD/os36qTVlJbt51JRd1AohDfMfHEB6GpO5PpSmGVDgG6DAk6ffQaUiuTZb7MWsnPEwMZFYRmB6LCwt02l10IXAsSbPVIC9LTs7O4jfbmAqaVFzQbvPYY4/x7A9/wlvvHkFWKZ7bZLCwSBzHzC8tc+T0hzS6UzS6k5w+dJiW5/PRjz7Eu0fe56VXX6MsDBaWU9JwSCok/po2uaooDZM4qYgHPdqTTe45uI+LL9nG7/7u7zGX9ple36Hl28iqwPUsonhEVeVUOkNrTToaMlpKaHsJJ0/PEMYFrtuiqqDTnmI0WCIeLo1h0RVJkmFIgePaFFITJjWPUuQaiY0sDUZ9mJwUzM8t8dOfvs0dt95EiWKpP6K5xifN6mvjopToSjEK4zroYteINs+BCy7ZyOZLr0CMelwwNbEavTZtE10JRmFMFMUIYNeO7ezYsZ0vf/nL/Pmf/V9IxyPWmlGaYlgm0jaxfYu9+/Yw2fIhG7J9y5U0nYBBbw5KTWGXVNJGIVDCoO37fOaTv8SzP3yOJx9/isNbNqOTnGSYoISFISx8TyINi+EgQusC160j/I7r1oCADJrNgFa7QZJGDEb1FWmclyjXo90MCJOUoqrIijrSHiXJeCFSzM/Pk4SayTUNbjtwEK8ZUFQa03PrkYsJQjaoDJ80L4iTgmGY1KMVIZGlAEySJEMZJq1Om6wU5KMUaSouvfRyBmHOqeNHWU4UmD6jJCHJIlzbI7AdPBUwKIdUqaLIIElTsjLEVQGUYx1LmWF7NlEU4jd8jFSTlRLXtXHdmoM6HPSJo5yJNdO8d/gwU+s3c/CuBzl14n1e+Yfv8eJLb3LFZVvRZU5lWLz783f55re/ycUXtrnr9jvqgBYlaTzCtcEyx5KuqqLUK91aizyFSpsYOFhmA1MtY0gbDIuJyXX0e3OkaYmBhe+0We6dJxMFjqx7b7rUrHg4KqoxILnEdTwoK+IowlZWnbgX8hcIqRppVBf5Vgu0cqVtXo7xOSUVKZXhjEnhNfJHVAZFVmJbHou9IWk0wnd8Zs/36A17SCfHNiU2Bi3TosoSfDvBUnVfxDanKLMEkQ6444bN+N0NfP87BWWaICpFkmdgVSRGSK4SRmlCt0aY0HAq9l29gV1XT/PcdxSHZkfkMiCtNLYPsR6BlZNmCb7XxBAOichwymVkPMOEr5FE+E2TJK2xNb5n4qgSX1aoPMPUFaO0wHEj2uZ5LtvocP/Bj3DuzKm612QokihkGA6I4hFxGCG1QSfoIoVi7nyPK6abbN3oU+YleQpKBmidw2BIS7lYzQ6LwxGZ1uh0BlFMceEFHZQ0yEqbwAnQscTVHoGwccqSdmBit22kY2NVDU5+OItybexihOdp9m67mB2bu/h5j6ZjEZNh6BwhJa7jo+KIcJSxZd0adm2exDILhMhwfZ9BVHKoirAqKIRPqDUkIW0KZDZiw7oOuozwPRdTNhDaIrAcXGkS2D46BzvwoKpotzocP36COIppODbR/CxXXjTFzdsuYULkpGVOHmrMoMUwLbFcqAyNzgoC5SCKHN8oqdKMRsul0AXKqGi5AWsbk7w/Ook0QAlNlccoo6AokjHlQdELQ5wgIOr32Hf1Zdx/6y56syd49/D7iCwnGvZwbQNdFTUvzg0YFiXRmQ+RhqZpF3z8zusJGgXPvfgspphCKpesyhmVmsgoqFxBrEtIBUWmKZMBeXiKdNhi09qAhTMFzcBCyZSG75EVQ3IdoXWMqDyMQhCYBqNUE8eaxd6Q+bllqqq2QCRhDlpCKQjcoFYaVXnds0kipKwoRUWn02YU19eOrrRo2HD3gXt49bVX+fznv8C6tevYffVOksEAQ0iKokSZIJWHMFyardr/lmY5ZZ6ShrB7+2X88qd/ma7rMFzsIZVNlmak435XVVUkUUyZQ9hfZN9VV5IPDvI/Hn+cEzMLKM9GuRZ5lZOXKe2OzwMP3M2eHduQRYSpU2SR0nGaJElUd+XKMaA5TVDCZsL3+Myjj1JFCa+/+gaU4EoLkQs2rt2IZTocPXKM5V6f6en1lFWBpRQnjh/j1MnjXLx5CiUrpCyZWtNBOfDmu++zZccuKuWiXItktMwHR0+Q5zA9vQHP85iY6FIWBXuu2Y1jd3n+H37MsZOn2bnncsqqQMclKJesgEo0aLY3URQJ7x4+hBCKlpfTsFwMLRCYNehBOSQZ5JXgyAcn6E5N88jHHuHAwXv4k//4p7z8xvvs/siNbPAdNm1ay9H3Z0mHA9Y1N7I8M0RHipbXwTQNhJkSZhrXbNSd0qSkqEqEqqHPsi4x0h8sYRhQ5GCIkqpSzMzMMBjAwft38dAjd3P21FZ+9uaLnD61QBLbXHTRxbz93hG+9uRTJFnMpx+6n6u2bqHQGUWR0G04yAooYqoixTQEjmmT6hKjtJEVeCpA4aAMhzwD32/TaHZIo5D3Dh0hjsC1AoqopOV2kUZKKWKKMZlHKANLSiqzorewhDSMGlBRVTiWvcp/NFYkiGqsIrEsc0zJF6uR7VVFuRhDbsfCwBUqRKFrY+6KZHJl8RMIBoMBi4uLNSkZQbfbXW2Or/ydAjE2W+tVxXlNJakXWXuMTsnyjBX5Yt1LylclktKQNBsNPM9bJQrUJ06jJraP6wqu667WDaoKbMsljjNGo2wMyaz7yGlW44qkqmnNiBLTqgvIZVmSJAlbtlzB9PT0apS9lprGq8qOwXBAEAQYps35RYgzENKhMiyEtAnjlGysqDGkxLZsXNfB9zzSuETJAEEtaZTKQBgFeRFS6Ig4GTAKB8RxTJJkzHx4jpOnzvD+z9/HsiyCRpM0TbnuuutoNBtUjPUXsvYlea5Dq9PGsG0qCU7QptOdxnY6SNUkTgRxUlHkNUnBtCRB4MA4bZRkBUKaSMsmzWsNhFwhtQioihzbFJhSoIuMUTTkjTdfp9AZk1OTzC2l3HnXQaan11FWYyOtWZPSq6p+EVda17gzIepiulQICRoDpEmBJMo0YaZZGoxwXfcXTqaxBDDLMpI4pgKSJKmfTRCsQgKyLPtn5JOxK6uqSQiWaTIaDVlaWqqByeNUYuDaeI6FbSqkwRhGXGBIRVSnqvCCBkiF59ckcNfxKBEMBiPOn1uiKDSO464SVmrUlcR1HYIgQBqwuLDA6TNnCIIA0zQpigLTVOMeZM1StCyzVoGM0VWu6yKVRCoBogBykgT27bmKRz52H3lc8jf/7S94581XsY2KPB5ilDlCw/mzZzj8T+9w+N13OH7kfYxK45gGLQ/6C+c5fuQwRw69w4ljh3Et8F2JrKAV2HiOZHptB88GSc5kO+DG6/fw6CMPUMRgFClkQ/JoCdvIsUXB/MxJTh77OYfefYve4nksS1JWmmYzoN1qEPguSoLvWkhRYBoFE52Af/fHf8i1+7aTFeA5iiwZcuGm9ey7ZhdnTi3yF3/+Z7z7szc4P/shR37+Hn/x5/8Pyz3N9dfupdtpksURH7luLxdsaPOD73+HJ7/2BL2F85ybOcPff+XL/N0XnmLjWoP91+2hiAZYosAoNJdduJ4/+Ny/YqLl8tbrLxEPl+g2fKosZqLp0WlazM2c5Gc/fYWnvv5lvvjf/4rzMzk3XH8N7WaAZUp838GyJJZlYBgVw8ESf/mXf82TX/8qS4tzrJ3qIikwqgTXEmxcP8UVl1xEvwdvv/EqnabDkfffwVIl0+snSOMhtpJMTUxhGh46l7Qbk8RhgSk8zs30sE2fwGvjmD6u6WMrcC2fbrPB4vmzUMBoaYHB4hwzp4/jKkHTs7CNklPH3ucbX/0yR947zIFbbuS+u28nHCwgqwzPlqATLAWBa+I7CsuoOHL4XX725mvEYQ9HQbQ8h1GEhMvnEBqOHHqbt15/me88/TW+9LefR0m4auc2oKDIY/I8JQxDkiSpYRf/7IZwxb1WVRWWZTExMYHneQhAraBEVhaWFSnbKgJqTOQwx2LLenFx0MKshXuw+udMy2Zpub9K3+8v90jiIXNzc2it6S31WNOYRCcxaZaSZdmYGAJ5kWOZFbZjr76Q8rxEVhWu6xAnakwMr1ZpCytWXWSNwVohOK+8lJRpIWXtLtO6JE3LMU6lxmSlaUoUZURhVpfClUWhYyyrLi7q8Yu1rHKEqLBtA9Os72yjKMRxJtBas7i4SFFqptZ1ybIEwzBotZrMmz1OnTrF1Po27TUmpeEwjDWVLml4DUxbEY4gywtGoyGlskmyjFKU6EIRDkoG/QRT2YyKIYWsXy7KKnBcAz9wME0L23LROiEZhnWB1Hdpr2mTDkx27dpFVUasKtYrXZPbTQnSwgp8RDSoY+RRSZ7UaKr62blkKYRhjHRsfK/JYJShhUJaDoNRXO+gdUFeZJQ6xhBVjSIq89qUW6S0WgHhaMTp0yfRpWaxN8+unRdy8y37KUlJkxBp1LihEo3tOOT5qKZVjD+Phlm70bxGQC4toigiKw2yUuIEHTrjAnuhdY0YG1dJVuDWfuATJRmWbeE4zhhOW2/UpDEWYOpa+Jdl2RiuXUtmHddFmQpdFFRFATqn1Nk4YVViKolp1oJBqUyGowhlmnSnWuSlIGi0SNKMCy+8iIZnEYcDFhfmYBzVrsaJLakUrmli2RaLi0sMhhmHDx3ijjvvZQU7Z1CMXWB5XakRteYHAa7nkWSaLE/xgyZ5mVDqhIYLtiq5/abreO+tl/nJc0d49pmn+J2L/4C236ETOJQpPPfsa7z049dYXIbPfGo/v/Gbv4lrGhQxvPSTQ/z0tUOkfdi51eQ//MmfosgxBRhlQjJcZOH8GaoMbKNg1J/HdwSfePg+lOfwxNe/gSsyWo7AMTJOzA75y//y1+gUzAp+4zM386lHH6Yss3ocUAgqQxIOB1Q6waigLCKqYkQ7aPLrn/kkUf8/U6RDAlcRRRmf/tQniEdLvPTSId556z8SBHB+HjwX7jm4m1v334DQObZS7LxyK489+jBf+tITfOlvn+bpbzxdV4YyWL8WHn7gHjZvXIfOQnS0jNJQxcsEdsl9d93Mk099k68//nd87vc+S2Ar+guzRP2Mx7/4hXrjLMBy4M7bL+Xeew/SbHmkSUSpDdIkwXUUnqvY5K9ly+Xref3V9/mnQ3+I5VrMz2Xcf9d1rF/TYrg0x64dW3n7ip/y5Fd/yPee/iGjIdx841Vcv28XosxxTMnMmRn+7gtPc8vNN7Jn9048p4WgotUwSeISQwkMoUjDIXkCFBWWgGt2bOXgbZfzw+/+A2+98QZpFGECNz14gG7D5b/+18/z5qtvYRnwzNNP8eJ3nqLbgN/+nd9k+44rGeQhOoFouIjQCWUe8fdf+Vs+eH+eNId2B3ZecQGWI2k5sGDAE1/6W6K4nr/7Ltx54Dp2br8CU8H84iKuW9N/KOt+WVUatUevBM/zapRVFGEYBo2gMaaeVCilzPEpSa8CRVcEdkWRk45NxZZVK1G0zrBtNdaV/EJJviLxXBHfpUm+uuM9ffp0De41zbFS4BfN7jzPyLKMUjsIa6xAWZ3XsXpqrCWiovaSJelYsV3/DMs0cRyHPMt+UR8wZH0EF8WYFp9SFDVGSRoWvu+T55pG0GXQjykKQeC7iLKkzBKCRoBtWyhlUGdhCjByDFXheS6eW++0lVI0m02klMzMzDA1NVk/u7xYhWHO9QZEhSIuFIWwkcpleXzX73hdDKnIi5I4jkiznEoKmv4UnfYmRoMXGQ5DpBR4voQiJtcDsnyIYWhGoyGF8kgTjZSKXm+JXq+H3DTFXbfdvrqLEYKarSnM2iQrBQUlqagIul2yUpGVNobqIEVJEies27AJ02xQaijiEGnZ9UlY2kyt38TS4JV6gVCCdrNJshTRDDxsU2JJga0EAo0yKpQyyKsSU1r0B0v8m8/9Cq5vEy4totCYSlKUOVlZ2w+yLKnZjFIijDqhVZQVaVEiTBOn0WaUpnw412NmYZn3j56Fvpd6AAAgAElEQVSqO3JjyKlUJrZdJ3Db7TbK9WoGntDjXp1YfTaMezFqDG21LAvbshmEMVS1YLMqS5Rp1icyybj8r5GiwjLNsYG4wnY9TMNlOBzRDy2cRhvL9Th27DjLSws0A4d2w6Wq6i9mUdSKIdfz0JUiinOG4ZB2u4Uhhxw/fpzBcFDPraUaw6x/QUUwxsy6iop8rAOJoiFGXqKUw/7917J2qsNkx2XdRMAnH76Pi9a/AFXB6WOHcV2LLRdfwKMPXY1tmihDMhwMuGjTNFk0ZMPUBI9+9CqkZSKUoIpHTLabBI5gw9oWt9+8nUsuvZzAhh1bLuKh+/aw+aIL8OyKSufoaJmD+/cyWJyl6wnsMuT+O25k56UnsZSCUqOTmO1XXoZlCYb9GEOD7bnoqsJ3FPffe5AwyVk72WDThgnm52e4dPN6fv3Tj3Lm1Cl0PsSzBZbl8W//9e9y7TUvcOjwYYaDPnuudti2bRt33HH7Ksxc6wJRCO687WbWT63jhRd+zMLCeaBg84Ub2XXVDjZt2IDIQhq2w4VTLT569y4uv2waUfS5+44bUGIRREI2GtBqdti760qsShGFBVmWsXbdJBs2TrFzxxV0Gw5FniBEUZd/y4yySMh1heM3+P3P/SbPPPsjjp06S5RmfPT+3dxy/bU0HYOl5Xn27d6ByB/j+edepiosTOVw2y030/AkabRMq21x6PQJTh0/zdV/sAeqMW8xT/G9gDjJcGyfpX5E0wv4zC/dx6YLNpOHfdavafEbn/4ka9b8kFMfnqMV+Oy9ajvX797B+Q+P0/ZMbtu/A+E0akBWPEe35TE14ZPFy/i24OGH9tKdmEToiE7D4iP7rmKydQxhKPbu2cWEL+gPF9i/50o+skcRRhkYJq7jcNGFm9hy+SUY5BRZyNo1bbI8RpoWaFYPLlU5lgYrkyiMiKNo9VaPSqApULBCrFerJ6yVI90KanLlShBYvR8XxvglbxirynddVjRbnbpgGyUEQUCnFXDs6DGa6yZYv349vu1haJMwqxc3Y0xL9zwP35OIKqyvdMa/kiRlebk/5kVa5EWBbdvYtkWpRZ28UjlJkqxqtYuiqNExjg1VRZGv8NDG/9axAXt25hyHD33AiRNnqEpJlmnSJCewJUEQkOUJeZFiWkatSTHFqnFbGAY6rxdx27apBIxGI6amJqiqGiZr2zaNdhvD9+nFId977gVefe0FTCNCFAU7rryKg3c8gFQmnudi+x6pHhBnKUc/OE278XMOvXeUJMmxHQNplkx0AibXNKhEhpSCJNGUYYrWBo7lEscxcTxi57bLuO2226mqCMe2QWikNKkqsxYdui6l6ZKVOUZp8cIrr3L48PskgwFpFHLNNdfw8U9cDJWJ5/nERYGUJY1mwLm5Bd5+511++tbbZHmBzgocoxzPGj2KLENUGksJLM9maXmRckzEV5bkkouv4OZb9qOLIYYCW5rA2EuHIE/jVT1JNV5wKl1S6BLb8ViKU0zXxXN8vvGt7/Lcs8/w4ZkPMYwGUtac8qqo6d2mqjUow+EQaVnoPKstyuIXBmfLrAWfqqpwbAfbqn17pmlSVjlFWqx+NwxRYRo1bLkmwRhUYy9foUuyLMdvuwSGSZpnnDz9IR/8/EMWesuMBkPSJGTQN7hyy2X1talhIJXEtC0UJqVQaEoCVxMEDQbDIYcPH6bb7WDbFkW+4n+rwQZKVQidU2rI8xzTdjEzTZKlNFyPOw/cwoHbb2Y0HDDqL7Bj22Xs2HIRRZ4Q5xqdRWy74hKmJ7s0ggbWeHNbG4xzrtxyGVdcfjFRElEKzYbJDmF/iSKP6LZcPvnoQ7hegBIFm9ZP8muf+SRFlmAbYz9YmeEqhwfuvI2yAqMIufWGvRg37sO2rZqDmaZIAXEaYdomjmORjWn9lm1y8MAt5EWFsiyWF2aYaDXJs5Crtl/K1ks3ovMheZoipIUlK+4+eCt33HYjSRzjui6uW8sgFxYWaLdbhElCUebkOmHrFRex9fLP0F/uYZkGDd9F5wk6z2k1A3oLCzQch9/57K8wHIZkyRJNX/LYww+iTMjzhHQ0ZOulF7H10supSonruEglSLOIPI9JkqhGddkmBtSYtkrjuQ693jyNRotHHn4QlMVwFNNqeKgywRA5nmUQDwZs3rSR7b/9GxSZIIpimk2fPK+vGCkr5ufm2LFjG2smupw7d5ZKC5QyiJOYotAkSUieRXTaa/i1Tz9GFKe0/Izl/nmmOg0+99lfox+m6CzBMSoalsChyccevJtSOpSmS1GCHs1gm2PTAzmeo3jkYw+QxBlZPKLVnuCh++8ivC1hFEZsvmCaJDxHy4WP3ncH0vLICkFRrthVSmxbksYxVVVbpOM4Q5rOP2M8/gLRVZW1M820LBzbJsuzGuKuQCVJMp6Xmav+pRpHMgaXqlqol+d5jUdREiEKbMuilBa58DHHpzEhBL1eD8uyMA3B0tISDd/hxMkTdPOIVrONIxyMwliN/9cLT4Hn1lrwdFSfrmzbxvcsBmlJGIYYskQpb0yiyMZupn9GepcScyzoy3VGkiQ4jlw9qSml8DwbhCDLc4aDIYcOHebf//v/QBhnSMskz2ou465dO9m0aRMCVokdUZyRxAu4ygXqF2FZKrKsfjlWAqam1o6BsAXNZgujtOpdelkRpZqjx89glBGugngIjtXkjtsFjaDJhg0b8FptjHOzLCwt8tST3+Z73/kJ55cW6HS6LPQWMKqC3du3ML1hklqCWZDnUCYZRSHpjYb4no0uYOfOq2rGWTJiOBpikeM6kjxPieKQQue4zTYto4tOM9499D5GrrENiSUEpVbc/8DDgMSxHYZxj+WlBaos45nvfZ/nXnmDY6dnmJhaB0VKv99j99ZLufjii/E8F0FFkZWovC4KNzodev0haZZw9TW7MC2LJExo2RZS5GRpiiFNLFVzDU2zFpuunOhL00RKk0KXKMtjw6YLSaMhi8vz4MtaNprV9HZdavI0JUnSWo1SlmRZxppOhzIXWJZFs9XCsiwsy8LzHDzbwChqsG+hNUtLS0xMrUOqjCgL6yJyktBfXiZNMkyjQJm1/VvrejeOEERxTJKcZ2rtegbDHn/6v/8f5KGgSHLyFChLBv2S/TfdQqfbJS8Kest9NAq/0aXZnmTN2jUcff9NOu02y70lXnv1NYKgnr0ZRp02rlYiW1VdGC1LTVFk6Mqon50UZGlcw5INg2ZgI6uKpYXzuLZJuxkgSBklGY1GA9VtgZDovJ5TWkqSpDlKgs7r+YgyTWbPnCTwHExlYZgS33cJo5QsLfBcjyyNMA2wJIRxjC4L0jhhstOt59BSEhV17NpRFnmWYJpjM3dV4TcCsiylrCpcz6slqJbC9xRFoRGmQR7363eEZVGpEsc2KIqKssYGU2QhldY0fZs4DgmLGCkla7qtukNbFkgpKEWFzkIEFesm21RlQZGlOEqS6YwsGhK4JpYS9OZnMC0b11EUVUmZF4RRVm9CXYs81xgCBoNlnOb4lO5ZVChG4YjKqDcuWZLUGGNVmwdarQAtwLUdFpYHrJ2aIgn7SJEhDUXDcyk1KF9RlhWGUWDbJVqHVNQbdiFKptdPs2f3zZw8dYwNG9ahdU6Wp6RpTKfTZXl5QLvtk2UjwrAPlcGoiAhck1GWMVhaIEpz1q+ZZLAwR6bBMQ1Mz2WUlWRo0jyrg3EWtcev3WFhcZ5OdwJdZLiOi20aLC7M0e50abcDonAJz6wo8wzLcjk3P8PEmmlMaoD2cDSgt7hAu+khpKTfX6TVajOMYgwMBKrmTY652mEYkuc5rWaLbrdbH3SKHFkZGHKcZszznCSJ6y8lkGU1oy/LMqQ0cF13fNVYEccJozAkHI3I84wojpGGwWCQMj29gbKs51FBEDAYDHBsh/n5eWZmZlhYWBgX+SQr4RPHsanGZuNmsznuuEEYZWhd4vve6k7atm2UqaCq52srIZUV7UAtvbNXtTUrA8OV01ocxYSjEa7nMhiM6i+V49JpdzBNi61br+TBBx/Ac13CcESz1aAsNRs3rmHN1ARJEq9e29VCwBLLNLnwwguBml/pOg7SMPB9n06nQ54VrFu3gcsuvYJOu0kFrFkDk5NraPj1na+UknPnzuF5Ls1WC6VM5ubm8TwfqNFXBw5ez8cffZhWuzEWBuq6n+V4uG5QUzMMhWmZvPba68RxXIsIDTk+ZdSnJ9NUIGqOZJIm6HHw5pJLLkFrTTze4CRJukqC932ftWvXrvY75ubmCXwf07TI84K9e/fyx3/8v7BmcnJVpSJEHdopq4ql5WVM28KybV56+WVcz6UodY2sEbU4sr6GrhXiaZat2hyyPEcX9bWt1hrLspiZmannpIbB7OwsS0s15zBLU4SoT6yTkxOrp+iJbpc4SVhcWKzN3Lo2U3ueh1KK/vLyqv5l5dp6fn4e1/VotVpUVYXjOHS6nVouqSTF+PO4cpVZFAWmZdFsNjl9+vT485bXC7DpYNrQmejwO5/7NLfeehtJmmHZDkHg02q3x4tbztzCHN1OB6VMgkaDhcUFzp2r/41Jkq7KKA3DqK+mkwQpFbbt4XtBvdhVJZa1EmDK6XbbGAb1wqVMoihBSYVn22RZ/f8tEPiNFqM4Jc01yrQxhKTZaiKqijSO6bRbqxQY13Uxzfqmwvf88XPoIIQgiiNMyyTPCwwhSZMMnRfoPKfpB9jKYLC8hBwvAIXWqLFeJ9Ulrt9kFCU1xDlL63lmFiOqHCU0tiVQsiLwbbI0RFBQFgllEWOb0Gp6mLLWRrWbAaYUhMM+eRoTeA6uZdHwHQwKRFWQxiFZEmOZtfDTELU5odA5uixwXBspIUmGmGatwfGcAIlNltTzHMcxcRyDsoxJ4j7D4TJZlpMVJbbrIy2bTGu8RoPhKCTNclzPpyhqu7plWfVctipXrQhFXmJbPsJQKMukRGPaEr/h4AU+ynax3S77rruBSy67kA0XrCPTMShNUkQ0ug36YQ83UAiZkWZL+H5FswG6iGgEHqYSNBsevutApfE9G9tSVGVBHIfoIicOh9jjn1+J8v9n6j3D9a7OO917lX99697aW12AkJApotgGG4xjg20wrjgkxuAW23E8yWROZjLXTJIpOTk5Zz7MzDWTMpPiZFLcYscJHndwwcFg04vBFNNBCNXd3/Jv67/WOh/Wu8V8kq5L0iVp69Va63me33PfDOeHTIop81u2gJczCr5gPJmG/9u2RSpBVRdMJmO0VoBj69ZFNkbrNE1Na8OYqN/vkyQJZVWwuLgQfJJRRJqkbI7BzAwIsLyyPOskhuyCVmp2nhHYjJstRKVeCX1sasg3dQmnEiWzF5EVCo1GxUmwUgNzczlHjx4liWPyvIcSjl43Y9wWpFnKjsU9RDainY6x1jIYDMIQr9cnifp4O2VaFDRNjTGGOJbQhsPSOYeQYibibMOHf/P7bbBYh8PbEWlNEqdEsT41V2B20SVJQhJHTKsCKZlJGuGll15iYcdWrrjizezcuYtEt3gTDr04jim9p64aXGOp6ypc1j2NUoqiKFhZWcFYQxwryqqiKAqOvbxEnvRZn5YMty2CNQjnWJxPWT5WgXNEkaaua9bX1ilNixVhyVG1ml4vQ8SScTHirFft4+B557P3jH00zRTXgrWeNAlOrGpa0cm71HVQbDz22GM88shPefMl59JORjgR1iqUkjjXcvLEcZbWp2SdPvPDIaqTU01HLC70WFtaIo49w2FOXU/BO4xpOXbsJP0sZTzaCMirLGFjfY0zT9/NW9/yVhYXF/FNSV03JGnGeAqaBiLFtCrpiPA5efHQYb717Zt5x5suRjVr5GmCqetZZFlD4+h0OmFpVkikDgqeSAWTclmVNNYyVQ5pKoQzREoQaQ0+QkpHa0PKVknJeDzGjCbIKCJSCq0UVV0BMBwOceWIyXSCMCXTaYF1ITRCbZhOJ7RFgdo6j3OO6bRkWoKgwfsgeTSmxcxIC3iPbQ1JpNHKUY1A+pYozYliz0UXvYZ3vutdqCgQ9Ju2paprVtfWGBcNrZfEkWZxmFPXNb1el3p1zK5duzl27ASdTo5iQBwnxEmCECm2amiNDdZgG9KUrTVY74iilDTrsLSyRp6kAUgpPFmaUDc1Kgo+Lo+mblrKSclwYTvT6ZREa8bjEVI6Bv0e3rW4NshktdJUjUNoTbc/R9PMdqoiRZR2sE2NsS15d4ghRUUJwrVESlKUBU3dkqZ5OKSjhHQ2g3ZSB6pHafEiYjytEN6TpRqt2iDBdeHywG9KYMP4II4DaDwcwiYEmVSQXWolIY6QIvzZQ13r0MohmOl7XGhpWQd5ljOZjMmybqhwZhZrnaR4IYjiHEmMMY4oSohisK4mzTPKuqTfH+KdYmV1g85gnkkRQk5R2qU2jiTrIXVC64IHsmrCw9Q6TxSn1NWEyXjCoL9A6yJ0HOGFZ7iQUZQTnJa0DurKE1lFUxZ0MgsSRqMRvX4XlSaMyyk61hSmJI0TBsNOUNG4lqybcezkCZzKyTsRWUezPt5gvpuRKc90ZEI1Nhziak8rJP3+PGWxQRTF9IY5ZWWwLci4Q5T2qOqGFsvGaEKLIO70iKygdZ5p0aCi4I+cVgbZBGmusy1xLEnTDt6HZLsMmu/Aat0U6jpHnufggqbp1DhsE/ixeXl5H6qDzVj+pp56k814amYwq3jM7OW8CXxsjKPf72OtpdPtcODAAbZv306e5ywuLtDv9zHGMJ1MQhhj1ppxzrGxsc7GxgZKKfI8mwVIapJZG6gxzSy4ocKNLyV61lrcvKX15uA+SUiSNIQ3VKjgNjXqbevDQdg0TCZTut0uZVlQllO2bdtKVZV8+ctf5gc/+EFgNmb5rBJIcNZjTItSnKqWmCU5jTEURTH7+sWnZoCtDUvlEhivrrB87BjFaII3NdgQjx9vbGBbg1SS/qBPlndIsxTTllhf4nzNloU5jhw5yj/8w03ccsutaJWSZb1NFdRsuhmI4Ma0RFHE+rrh9tvvoKqq0H4FmqaZ2RBCVRJphXYwWllmsr7MdLyEEhWCKd2uxLQTohgGgz5btiwCEaYxTDZKTF2G1kGkOfzSS/z5n/85X//61ynKkiBKbRGK8CJVMdbNzlGpKSvDt799C54gCa3qFndKaKqI05QoTsPc5pRvz+JcSxIpBt2cbhYWj8/efwaXXfxqztp7GqNR+AzNzc3R74fKparrU4GmLMvo9/vBkjtrz00mE6qqQgh56vVnGkNjGrZt287OnbuI4rCOEmzLwd/WOjDWYZ2fpRKDlDKdUXKcNZi6JJIh7GRaR9NYbv/Rj/nd3/09VlbXSbIMhMDYlqY1VE2NaQ1SKbZuXWQ8CsGPTqdDv98jiiKm0ynr6+tMJ5NTXZQojkjSlEgHPUZVNrTWn9KgNK0nSoOzqrYKLzMmFUwrC1KDjKiMpzPYAlHG8qhgaWPKidUReX+e/twilbHUrcXLmNG0QeicOB+wPq44fHSZ40vrGKeROqdsPMYpVNKlsYpWdpi2ERuFp7KKpDMk780hVMK4qFkfFViCL7D1irnFHUG1lPSQUYfBcAHnBXGUhJlmFKOVOiVtlEqiI02SRsSJRkdBZ6W0nHVPQuAnil6Z04fLzCKERWmPlARiiveMJiWrG1O8TlmfVCS9Ia2McVGKU8HJWDeC0djiXI4jp6oFo2kVLjspKWvD+qhA6pyltSlWxFiREOcDsu4cdStYH5VMioY07+NQZHmfsm6ZlBVeavrDRepWUdSSslWURjAqGmrncTpCJB1kOkdLDydzvFQ01tMdbsHJiFYorNSsFwVCR7TOYmyNdQ1Ke3QcYZHMb9tGUTc8f+gwnf6QurUUdROs6SpiYzzlyImTpHmXpbUx6BQrEkojmNaexkdYmVEYycpGiUq6iDijsgJ0RisTilYgkh5RZ4iIu8SdIcaHR5RQEXHSwQtFYxxxmoXOGmEtSBAur82UO4SF9s2ixjShwtMh1OFOBTs2+YzeB2jvZhx/syUopUISWk+bEXgpJUmiWd9Yp9fr4ZzjtNP2MNno8vBD97PnwOmYespoNEbW0InCTk/btiilwnxJZEynY4QdoXUUiCSb6aPWzmSW4tSlpmcHlJhRqNX/sRPnvaNtbTCyAtHmJZdGtKYNyBWted3rX4doPY8+8SSTuqbbyTly5Djf+c7N7N+zyAXnHqAsq9lhJej35ojQs3nZK5Vet9slThI6nfTUYyDLsxAMMZ481pw8eYxr33MlF7/mAMKPmI42uOD8V+OcJU3iU5dNUUwZTye88x1XgPPcdufdDAZ9VleXWG5KfnjbXRzcd4BXvepVaJ0QxzFpGjNUCccPHyGNI4TwDAYJDz7wIMeOX8PZpy/i6+ZUGxTh6fW6zM1vIxUpS8cOcfbZZ/K2t7yBLAFrSrbv2EUUNwjRcGLpOElngV5/C266wruveSMkPf73t78HUUaexmit+Nznv8AZe3Zx8WtfEwSAEnTaoalKdBTNFmwFw8Ecjz/+JI8//iSvPmsXo43loDaJU4qyJe7kCFfjCOnTYJ22uNYwWlvBpy1pltFNUj56wy9y6UUHeOiRx/jn//EPsS4QtKsytIp63S69XoDp6iRBtEHqlyThs7K0tERHexKtEc6iZ4+1pm5mBH95KrUrpUTHKWioW09dhoBQbcypyy7LUuqpQ2E5bed2Lr70LL75rfsYjww6SsjzhGeeeZbPfPaz/OZv/kuEUjPrd0ynN8A6QZLGvOnNb+b551+gbVsGgzmWlpep6xoRy9mjL0crjakM0rXB7G0Fvc4AlKK2jsmk5O/+/svc/J07+ff/7l9zztnnkadDXnjhJf7wv/8BBw/u5wMfuJasM0DEGS+fXOUfbvoa3/3erTjnGfQy3vWOq7jyTW9g544tWFNRljXdue1MG8sP776LH9x2O8889wJVDfv37+Gdb7+aSy5+Nb28z6QYs7Q84bd+7/+Zpdci9u/dw8+/551c/OrzaZqS4ZbtfPkrf4RH8JGPfZyNaYGuBWVh+Ou/+guK8Qb/16/9Cr08JpKOTifFC3WqVYw1eARSBsqGtQ6lNGmS4V0Yl9jZWENIGUSasy6N9cGhhpTBd4fEWM+Rkyvc+oN/4mOf+AQ667M8NRid8fkvfI6H7n+C3/mt3+Dcsy/hr//2b/jRHfewbdsWdNLS2g0++rHrefWrL+SBBx7hq1/5NtZpag+TyZjxaMo1V7+ZT/3yxzl64gU+/elPs7i4yL/4jd+g0xtQG8df/c3nefSnD/KpT97A/n0X8LnP3sTxo+tMigmNLVkfb/DRj13LGy6/lB/9+EG+c8sdOJPSTQWXvvYcrnjLFSxuHSK1xBQj/uiP/wDvDJ/8xMfYs2MHvqkQzlGUJaY16CTHeMXh40v8w1e/xgdv+AB7ti0wHhekcURnMMehIyf5pzvu5PxxxRsvP58Tx46QpimHjp3gr/7qs5x38CKuvfY6Hn7iSf7sz/40rMVImN8yz87tC7zr7W/hwNnncHJ5jcR7ykbyhS98jkcfeYROFnH+uQf40I2/wKDbpW0Ksiwk05s6jJk2U4tSypCFiNJAGplVZsYYYheFy2xTUe29wxg/69mqWTUmZgnBMHxWwuFFG/ZAdLgdvfd08pyqgd179rCxvsG2rds4+6×9/PThBynLktF4xLCzDR0raGqUkgz6AwCKokD4mEw7Eh3NvGrhEjPGvDL09iHRYmYzFCtaTDPbuWktjWkC+b2siLVG6Zh4popv25ZIa0ztkTJcNpe+/vVcdPB8/uTTf8Ett97OaXt3MzffZW1tneeee46LLzofrWOc9UynFa1S4FuECLHqsKoQzKrjyYTuIDtVrU4m0zCnq0LLqS1LLjzvbN52xeWsr76ElsG+W5YCJQTj8YhWRdTeESUJH7jhOuaHfY6tnuTpZw+hVES/1+XZpw/xsyee5dxzLiTPwvyjrApG05AE0lGEaSp0qtnYqHni8cc5c/tlxLMZn3Uzl1MVZodxBG1VcP45+3nHVT/HdLqMdxUyipmW6yhlaeoKGQcqRWQd73nnNezadw7Hllb5yeNPYeqKyrdo73j4p49y/gUX0hvOURkYlw1KKjqdPmVtEEIxv2WBycmCu+68hwvOvA6toll4RyOER6BmfD6N9AIdRagomlmgwboW25SMVsekytNLNbYuaJsGIwQ+0+hIhBmbcxRFQZx3cXVDOVkPc2CtZ5W9xLoGVPhPobQiTmKiKOK5554jimNsOeH07Qshji+DRt77CC/a4EcWMlR2TUMxqbFNuODP2ncGv/orn+B1r3s3n/pnv0mWak6eXGH71j533X0PH/7Ih0I6y27aKcC6kOo877zzWFhY4MixJTr9ebyHbqdLa0IrXUcROtI0VWi3KaGI0gwLNK3F+2AZ/9mTz3DoZcj7c8T5AKESnEx54pkTzC3OU9Qt23Yvcu8DD/Onf/E3/PSxl9mypcNcv8/SyWP8xV9/g3+67Z/41//q1zlr32k4mdAZLPKVz/8dn/vCNzAOhnMJeS/ikccO89gTf80H3v9Obrz+/aA7nFx9iReOFCSdmB1bc27+/k9YWlon/fVfYdeOrbSuxjjJt2++m7Q3zyd++ZO89PJRrNc8/exLVMWY4fwiqYY0FuBaIHRIgiVAYJ3HuRZbzYSnURzaj17MQLQhMS3cK+YPITY7UhbrLB4Z2llSUNQt37/tCVR+E5/6tV9ldX0VLxQvHl9meQTGK9bGNU889RIn1kp6Q8lodRXrG8ZlAzphXDScWBmxstpwfA3m52BhLmdStCATUAlrG1N0nCNkQtU4sk6PaWFYXXc4EbF1x+k88/wRHn/8GNu2D4hSQePARxlz23bSikf5yWMn6WYd+gk8++R3WF6r+NSvfQqBpDYV9z94iDwD08ZYn9AaQyyD1V0oiYgSXj52gmdffIm77/8ZQn6F3/2dfwOmwVhDnnbIB/P89IknueuhR2rpLj4AACAASURBVNmz97eZG8wT6YznX3qIex5YoTNYIsqGnFwtePFlx3AeFrfNceTkKo89ucLTz73Axz7xSS6+5FJGo4Lv3fZt7rjrEXZsG1LXU5548llePPQy57xqL03TnpJACyFmHjNBayxN1RDN9jCVDC3lALZQeA86VFYhQOFm5HwQM8eZJ6jA/SwaGUp6Zx1CRggpQzJHKfr9PrmfzdzwVHXN3r3n0+122djYoDIVla0QtUA0gXdm2gActm2LFG42sws906jL7HJqkDIKivcZKSG0nQJ6a3MnLRAdAml58y8oZheZaUNLU8hXjNqNMeSdjF6/y5ln7qXXu5eyLFhfm9DP4LnnnscYO7vMoK4a2shgvQlDbylZWl5hPB7RyXNy2WE8HtPr5acuun6/TzrfZbK2Qh4LelnM+vJJmmpK2uvSlAXeJqcu57w3ROFohaU2U1oXcfD8s3n62RdQUjEelSQ6Y211ijGepm5xbrb07i1KKvCCLMup6zFZAg8++CBvuuQ8dm0dUtf1zFEXdgLbZpnKrFGXGyzM91k+eRgpS6wtaawj6y7gfE2SxngvWF4Zsa3jmGysMT/oc9nrL+Gxnz2FFyEQU0wrjp9cojZ2FiAImC/rWrRWSBVE603TkqQ5Dz/8CEeuvIzTdy7Q1CVWGJI4pbUBY+QJ5A+tQxRd4Im1pLQGpQVpJNC0gcAw6M4eZe6USBTPbFeyRicZddNQTKbB8wRUdRVawzIiTzW1q08FGrIs4+TKWvjMyGBex3ta66lbSyQUKgr4q80VluFwwPrJVeKkR5rGtHVJMR5x8OB5nHXgAMsnj5EOMibTDZIYnn3mWQbDfnDktYb1jXWqxjIcDEiShMXFRZ59/iVOnDjJ3Pwiq36dpp5SVw2maWbhqRTXtCAEcZywvjHGK0nrHEhNknaJopOcXF7njDMlxjqKxtM4sCIm7fZZG0+56Wvf5ImnX+aad7+Vd737WrZv38bxYy/zja/dxLe+fjc3f/dWPv6xD9HtzHH/Q49x01e/xdxinw//0sfZe+Z+hsM57rr7Lv7+S3/HF798M7t3n8Hb3nolMu5SWLjg4Gv50I3v53/9yR/zyOMvMClbUMG0nOUDJgV89Rs3k/fnueqqazh2bBWddHDTAqVTTFvgnUU4Gw5iIWbnRfDLBVJ8e4orW1QlSoXHnbUepMR7EWbkHiKpg4hYho1X50EojRIaoRKMh+/ceg8q7/Oen38POkpRaZeiPkndgo47eJmwfdsZ/It/+W85Y98Co8lhduwaUpmK8199Mf/5gjfy2OPP8h//vz/kssvfwC999MO0VcG4aHBo6gYm0xqd5BRlTZQKpkVDY2A0rSlqR3e4SHcw5Vd//TfZu38PVoxANYzKhmntQMG1132Q1x58FX/8X3+Pe+97lI99MsJZiNN5kiywTlubYIwmjvsI2xJHMXHkqFxL01bcefe9lA380+2P8os//yxnnbYDaySrowlCx6gk47mnlvlP//m/8bFf+igXHHw1TiaIGJLOHCruUtQWncKVV72da955NdPpmPvuu5evffUWvn7zrZx+1vnkWZ+nn38ZEUf80ic+xb7Td/Hic0+ya/d24jjFtwY/49NKIdFpSHFWRR3O124vdPWMxTYBdqFk0B/pzfbJ5kwstCTDxWVtSAC+Et0XeOtQXiF0gpURdRsi/AiIlGJ9fYWqGDEZLdHNJFlsGa2PkUjWxkeJVYJtaoSSFHVY9IUSrTfwUlNZQy0GRL5P2WrSQURZTME3GKvwwhPFGq8q1iZHSTo5KsuwYoCpMrAaIafUZkyc5qRZRtsYtIwoplM6HY9tq0DMKDeoqkMM50ApRxR3iVMD2rNRVtQ0tKrGaYuXEilzXFtTthKVdnjy6UeZTMc4Z4kjxXS6QTRMUKIliTXra2tsmctRytLvCCQGIT2VMcS2DdxA4bFMyLueulgBFdPJMjLpwUzZvjggTjx122Ktw2AZtSN84llvNqhFTWcwR6IV/SQhkhEry6tEOqeTRzz+3El+dnid3uJO0l6Pen2C9GDWG4bbupRtjVEeEcc0VuIqz6A7ZH3tJHPDDhiL9DXj8THmBxFpqqCTUdiKnXu2Y0wZXr4qQqVdJrWgESmr45I4TQMr0VtiITlj3xk8+fQzrG9shLmhgLuefJn5085EqwTvW4StiZVANgblW4x1TE2DVB6ZDbBkxFGONQYSSe08jRJMTIkWNd1Oj7ybMBlJjG2IIkknFkzXTyKUxlQ1XmhI+4zLBlsXqG5G7RxWR1il8EpiXU0SC5JEYWuNiHJqmePoYZsYHdfIyBCriropcE5TTD0OT91usG1+B42b4qUDP+KsM+c5cugxtswtYmqPc4K1tQn9/gJKxEifUE0NWkW40kBTc+aeXTz4wE+QEoy1JJ0ORVUgkwShY4TQSBmDV9R1Q2nWaWWgzvtWUFQm7BXG8NnP/CPf//4DlGVL0ziIBnjZR0VDnnr6Oe6//yccPHcbH7zhaua3ZHi/zoH9W/jgje/lh7fezYM/eZQ3v3mJyy47wNe++T9ZWnV85D1v5HWvP4cki2jbCVdceT5VdSX//b9/jdt//EMu/7k34ohoPcHmcGyJaVlSlAErV9UNO3dtZ1TWTFvwJfzxX30B0VnkgnNejXExXmasrpfM91OaWYw+VGYCIVx4CPqQ0I1UsNBuru1IIZFC0rT1qX3WYIX0+DApIY4ymtYhpMZYF9q+SIwNx+CXv/I9rJ7j6muuYVqFGL2TGq89VlY0bsT3bv0Ww/sz6mqN6z/wXnbvWiSyIyIdkeoSDXQ7GTt2bEHQxdqGyk5pgGNLY/7zf/k0Ve3I8x6HXlgHEaHSeZyOmJop03bEXQ/eziNPZSANZ+w9jat3XRWUKDGsjw/x7PMlxhT0tMaZDTrdDDzYcUGWKmJj0Kam34sYra+gdcukjahlxtq44oEHnqKfZ6yulnzvn25nx0euI+/G1OMppbFEcY4x8PSzq/zl3/wdv/LJDlGWYSwYO0XphjhqMBX4Zp09W/voaJ4DZ+7lqadP8NQLT3Po+CF27Jxj2+kpd91v+MrXbuK6d1/HBa96LVpMaM0YHU9ojUXLLiBwBCCAR9IYi/cSrUIILDQfQ55Cp9HmzGxzSZpT8zEzmwNoHXxmSoXUnakLeokKBGNnMTMKh3eObdsX8N6zsqzodmJ27dzCRecf4Ps/vJNi0lLXsG1bhJ8RrBEJxbRCSUuSGDq9lLU1j5VDrOihkz5xHmOZht2XOCLLcrSO6Q0TenMJ09JinEDH8/T7u2itwmHo9CO6fRU+kUKjdUptoK9tSDE5CcKRZYYktggcUiRYl1CZ4FFCS7zyWOFpWkvbWprKYEWKcZrv3nobLx0+Tq+f0JMZRRHaH1IFE0HVNIzGU/qpIs00SMFwywIigta3lG1BlsdEHY2KPBiDrR1eaEwxhVSANVTVlLqx5HlK2zRUrkZlEVaCwVE7y7icsGWQcNF55/LIT54g1gmmLFlaHvG9Hz3E/vPOJzItiIQ4yuho2LZlCyM8J442bJSG7nAb9TTFtC27d78KKWPKomZ9rUYkkHcivLD4JMIKS6eTMjfsImQCaJRKMGhE3MGLUGVLH5JKsRZcevFrOHbsKHVrcTKn9JK7fvoUb3rbW9FtQz+SaFcRKcCFIIQTkloKUBqd9ajDOhetsWQxGAfEMY1vUbTkaUyWpsRJGg5161A46klN3hVESjKeNhStIu/N001TIh3hvUUlOa1QFE3DaDzCWcNwsBWBxokYH/VoTIQzEVFHAJbJNMzWkriLFDlVdRwpGxwVUZoCgsUtHebnIuaGkm4nwrY5pnEIoTEG6srS6yjyJCFNMyLl8U3Nru2L9DopIu0gdGB36mmCiuLZ3AgiJ4hkhEMwxeCUwgtHp9/H6xZQTKfwwvMv8/LLG6yPCvLOgJVRQetiPAmjUcF0Cr1uTK8jkH5Mv99nOp1yxp4dnH5al7K0lDWUleXwkeN0enD66bsQoiHS0MnDPur+/bsBWFtfDfDtxpImCffddz+PPHgfqTB8+IPvZs+ePVTlmLKqiLOc/jxcesUVPPH0s/yn//ZHfPLGT4CIaa0k7w5BWnTsyFOFko66KSmrwNzUWs+W6l8JZYUktg/VnCB8K+XMxBxExLB58YeujbEWPbOyO+Diiy/FiogvfelrjKcSIfokGVhgWk5wVJxYXuU7370F30InhfMOnMXWwYBUSyLVkkVtgC+Px6wsH0cnbYi+dzQoWD7pue/+x5lOGgb9LRTlFK8kxkXh0pSeaQW33nYbVRVWDT70oWvpZEO0jKgr+MGt30O2MJcLfvXXPon3NU1VMx0VxECmNLJ1NJMCmyZIUVPX6/judpK8z823/ANZ0uVf/cvf5otf/Az33PsQ17zrChb0gNI2OJFSlA07ts7xCzdey5/86Wf49s3fZ27Yx3lw3jCZrOFmnMZYOURbUxQj0s5Wtm8/i/t+8hDr43VOz/u8671XcvLEy9x7+/O8+NT/5Ko3vZVrrnotO7YJkrQJO2gkWBuo+YJA9NFRTN3UIAR+xg52M5+ZlCKwGf/PC22zpRg+EDOUiH/lx4UIb6NA27AoHQ4I4S3rayvMzc3R1BUb66vUVcGBs/bzzVtux7aB1lxXHik100mBVjneRTirKQvL/FyHbkdwx+33kORzFBODRiFcTFM2VIXDG41wMeO1mjjRWCNweL733R9y5NBhllbHyDinMi2iDOoDFfdoRUJtCYet1uBbvEiwRiNJcEZSlQZTW5xsmY5rmsrjbYRvFa4NX0BEzOqo4Vvf+SGPPP4Mizt30tqGk6urOGDXGWcSd/oUTUttPWYyCWmlZI7HnjtGd+th0lxTm5KyLkhS8LqLlRkLOxdYXtqgReFcRBL1SOM+vo2wxpNGPTwxTenQIiMSOZIUWwuqSUuxUXDW3rO478c/wQqPcI487fPUE89SlS0y1WihMW2EjjJWRw1tL8eqDs8cPsnTh04Qy4DzOnz4cYbzC/h0gNWQZnMsjwo6icfZFm8tpqlDVaoF1noa09C2DVoLBA5nW4SIKIoxhffsO/N00kQzmoxI0pSqLHjssUc5dvQIO7d0cSq0uuvGInGzoX1IrepIBSq+DjuPtpUkicNZizENtvXYVmFqwXTaYo0iSwZ4F+Nt0LDnaZ8s1xw+dIK/+svP8chPfkq/M8eLLz7PcDggSTV1aRHE4DVp2qOqAsJtdfUFPvPZL/Lc8y+Dk5SThigGU0Ge9CgmNU1pydM+p+3Zg/UFadSlqRzFtGYymlBMHe3A0JoWU4dZr5ISJSRKypCKtY7tW+fodjqcftrp5HnGkeVlnIpZWR+TpTFKAj4g6MLMW6OUJBEKqWLKqqGpq5DAbWoiCb/+zz/FZZdfgfWKF158md/67X+HlA4tFVoFdJDwKYoutvGcODpBqwifeLxVNFUVCOUIFrYs8NKho5gGsnjI+so6cRxAB75NSBRomWKNJVIKU9csLGyhl0XMd2OuvuotdNIYLVKkbxEuLJSff84B3vHOd/C7/+H3+dxn/oYsUizOdcO+nAj7kisrK+RZhNKhzZglMWY2F1W8womVs2CYECJgwGbBtpBIldjWBhD5bN45cxrPagGLsHDeq/bxprdczdGXD3PLN/4REJRTSJOEbjdnOOizZX6Jj3/045y+ZzfOVOw/cw860ghvwDmK6ZQ0hm4nZ+vWBabFMtYa6qrAWjj/4G5+57d+nyjqIFD8j//xxzz4yP0IKzGFIRIx8z340Ic/xNlnn01VluzctYtio0RaSSxgz45FVpZW2HPmWbzxLVeztnYSHQu0Vcxtn2OyUWJ1hoty1qYVeT4gRlH7hCcefYa77rwfb1PuvfsBnn3mRYS0/PiOe3nPe6/BGUWs85A1IOKKy69gY3WN//2VrzM31yMSUE0M3WyAEilhlTVFypxO3sGTUKxtMN/psntxO6IRbB1u459/6l9w1o57uP/On3LzN7/LIPdc9/OX09aKbrdPU4tTxdUmYjEwVV0ICAKxjmiNQYgwitBta08Nn1+J4Ss6nXAzNk1NWZav0BLSCN+WoT3oNS6OiBQ01TQsOGcJeRLRyRJMXbF//5ksbNmCWTXkmaCuZwvTToKPyNJ+QCZlXTbWp0RRxF133o/zMYlK6aQ96tIzKSd0kj7CahKZI52inhpqIxBa8eB9D3H/vfcg5Ct0ZZ0KEhXTeoWxgtZD0wqkCBFg5zRN6VE+RiAxlQmUdi+oigZnBMJFYCVaRiRJRmUMd93zED/68cN4EYNKKIuSKMlpXcHBCy8EJWm9pXEtc4McIzSlj/mHb36f79zxY9JM0piS1hquvPJK1icGVEpvuMDaeoPwkkhlRDJHuAhNQhYnxDKnxVNPW6TTSKdIZEocdehnNcMs59x9+1no9TG1Q0lJ4S3T8YQ7fngXv/iL1zIeTSlrTxT3eenlJdpBl7Y23HLrHTz40MNU43Ui4dkYjbjs8jcy2LIVp3KIw2Wj41D4h/0PgbeGYjqhqluiKKGqplhT05oKZxviuIMiMP/27j2NM07fzWgyRmtBGsVU5YS777qTX/7I9US2oJkWONeCtyQ6wnpHSxugxc7gbI33BinDnC6g1sLCpqk9VdEincHUDq1SIhUT6QwlSqwReClYWd7gW9/4LqtLy3SznH4+YMfWHUyLMVmSI4Uiz7qYtmVjY4IQmqYx/P2X/xGtO+zYuoPxdBnvSmINC3MLYAWRSuhkPSKV8PzTTzHs5yRRRpakZElKEkESRXTSFNdY2qYhiSL63Q55mrBarDGeliwM80BuGPbYtWMbJ9c2yPudYNmtSyZTA96GlpvwOO/w1mKFI++kYd2hMQgkvW6K1nDanm1s3zagdYKy7GHbCiUaIi0579xzOf20OZ7+2Qs8cO9jXH3V1bS2pSxKfnzHnTz79AYHD25nx45FkkTx2tdcxP33/ZQf33E35593Ibt3n4ZzjhdeeIGv/+/v4CxccPACsjRFK0+m4bUXnM3Z+/fyj1/8An/5Z/+D3/sPv8VwroepCyLpUR5MMeKcfWfwf/+7f8uf/9Ff8MJzxzltR4RtG+KYQElfWMDZmrYNMId2Ni9P4gjJK2tEiBn/dcbq9O3sMS5Dc8oyM3+IAHqWM+ODxBEJTyxhvHaCnVt6/P6//zf82Z99mvvuf4xIQi/PqIoJ49E6EsurLzzI2QcO4J0BV1NXG9i2otOJ6XY6mAbqssC3BiVCZyHPYrIEIu3Zs2crpnHkeZc4NsTaIi3kUYK0nlhqzjvrbN5w6eXUdR2sGk2DbD3CwPve9V6Onljilu99n//1t5/jxhuuo2lLisayvD4ijbtEeY/O3CLLSy8SdRKkzPBNzNe+8i3Gay3btnV49OFHOPP0vRw+8iyPPPQYb3/b2+nmc1QldLMuK+0IVzd85PobaMZTvvHNW4kE9Dt9fCsRPqwARVEHiJkWNUePvsCLTz1BL1JkKLbPLfLoo48yHRs+eP2NXHnp2/ntf/07PPP0cwiupGkk3m+KoQP1Q8wutM24ftM0NFVFLSqMMaRpGpLGmzFVTv2CUJExi0IGTqKfMbIClFVpjVAa6wKwVgpPXU5JPBTjdSIFaaKpqilxpNm9azdHV15iOBjSzORqzgmqsuGM08+kLBvmhslM9FmhVcx00rBzx27wLRuTCu3hnP3nEMuUfmdIJGI6eYeidpR1S5IlWKGoTQV4ojhjbX3Emfv2k3d6QcUuARGWDb2XKB2Txl0GvTliHc9AuAKJwFtPJGMSnaJQSA9aBIBnWbVolbLntDPZ2BgjlcY6wwUXXsi5552L1IIo0XhhGcx12RiXyKTPuFzBlx4jBIiIldU1Xj62EhJD3SFKJTgvkV4SqRRNHC5vnRPFEdIrbO2ppw204BtPTEQnzrDdPpm0zOcpe3fu4JmnXwjtKGPIOzk/vO0O3vnOdxDHOVHcodObx21UWCJUolgdV0RRQjGu0cKztl5wbHlMOrcTlfZJu3N0fALtCt5ZJJ5+N7yax+MKPKRJHvbPbI0QLZGGPFUYEZadIw17z9jNTx5+iLpsybKYJJLccfttvP+9V7NzoYdrYhSSpqkRSuPbNsTehUdKj7MNpinCQZ6o8PmbvcDjKEXJiEgHbidO0uv00TI65dprbIAdIzWD3hBhWi559WtYW1+hQrBtcSt5mrF9+zYefewJsrxLfzDH8soaUkUoKenmOXm2wNr6cTpZn4X5LXSznEiGqPzq8goaSawitNQ0ZY0WEiy0jSFPUipV0pQF0jusCYSLxfl5VsVaYBtGCqklp5+2mx/dfS8bozGtD4EF19YI3wZKBLPLjLBA3FQNWiv6ScrGaEoxHc06KjWCchYSmgkV45aqGrF1YRs3vP8G/vZvP8en/+RveO7pI+zcsYOnn3mK++6/h/k5uOGG97Nj+xbGG8u85cqf4+mnfsaPbr+f/zb6Iy666LUkScr999/PAw88waWX7OctV15JHAm0ckRALxFc//Pv4qmHf8wjD73I/ffcybve9XaSPEe6hlhApiHGcOE5Z/GpX/4on//M37K6vES3kzIdr5HFOT976im0gm1bF8g6Gda1YadMRqcq1U03ld9E3ulXVow2u08eH1pkzs9+PigBsRJE0kELqbRoV7JrS5cPvO8ayvXjPPrkMq41REoSK2gqxze//hVulpJOnvKmN76efWfuDmsgApy1KAF5EuOtIU8jinKCqcoZFLtBUoM3IX4uJijRIq2lEyf0s5x60nLLN7/JnbffTlVWvO1tb+N1r38d/TxHAYM858K3X8NtP76bv/vSl3jDG1/PgQN78V5St5ZpscHnv/T39Ls5cdzy3vddxa5dQw498yL33vkYZ5y2jV/7Z7/B/PxW4kTxpS99lttuv5277riX6677BTaWj9PWDb41DPIcX9d85IYP4JqGm2++g2paYurwCHcOHnrwpzj7dywtr3D4xcMUa6vccOO1bO312Di+xJ233c4jDz/J4TetsHRsTFlMmRvO45wiTQfMkKmb/1qzUNdmsl3irJ0FsqAqS6KwMI3WOsTyN2HCYZ8sRNk3uYebi9XGGKzxZGlYXq5qQ0SCwiGdJ40Evi1xTiBdy5Zhj421moMHD/DgY89RVRvMz89TViXGOFo75eDB/Zy2ZyvHjr/M/Pw8tm0DcaQdU5errC6fpG0c+/du5bLXv5a2nrJv7252bJ3j0EtHiZKcLJbU5RoqlmybGzAab1BsqgwufS1begkxhlSC9g1VFUrTWFgiGcjcibbYtiDSLZKWclLRNgWRdGhpEBRYuz57cXnapmT1xMtB5S1blGj48AeuZet8jnOGSFTUk5rVEy+yvF6R9eYQWPI0od9NgxzQOzpxTBZpNJZyY5XI1cRRhMKQRMHX1M00ViicNWBLmnKEdBXeTPBmgqs7+GbMYCFjS1/yuovO4smfPsiwt42dO06jdSXHThzm3nt+xFVXvYMohtFkjSyLmBsGssN0ZIilYKMsqW2DcBArSRZHDLsZ0rekylONJ1hT01QFSSQRrqUpa7JOCr6lLDZo2xIl7KwdVpMkkqY2JLHkdRdfyG23fT8sC9eB3nHk8DI/+MH3ufEX3oeY7S7SeoQKDi9jDc4boCaOoZNpWtMQa0kcqYDNamq8b2a/X4YQDZ6arVvnuOSSC1n7/hK9XgwyBBLG0zFaQT9PaJsxqytHOPu8s1nY0mE4SHnve9/O0888jmnHjCYtG+MRw+EAa1tWlqd0Ooo89bzmNRewe9cWiukqdbWBloambNizayuJ9rT1hLZO6GYpWSKJtWRxYYFIhq+dxKIVVMWYXq9PpDzCt7NXvuSC886mlyesbEzIu4NA4ZAevMXPDm+hVCAgKEVjwqyxaWuapmJu2AUP442TeFuQpCnFdIk8BSkKmnqFyUTw9quvIFKKz332i/z9F78+i73D3jP6fOLj13P12y7HtAW1n7Jn9w4+9tHriZXk9h/ey0MPPosAOjm86x2Xc/31P8/e07dRlSv0u2BbSFVLL5e8+x1v5cWn/prv3vx1zj7rNPbt30dbFQQxRY2rp2gRc9nrLqKZvo+v3PRlTFNh24bllYI/+MM/4PI3XMr73vcelJJEs52jzUAApyAC4hRQYNNdt9mx2XQt4j3WzqL6gJLBvxdJRyxhkGu0LVBtxVvf+BrmO5L/97/8V04cPczicEgniyim8NWv3o4AEg1bt3TYttgjTRVpktHrdhEecIa1lSV27dmCUZDECi3BtRVVsUacJDTNKs6NEB4GHcXysRex1QamgdtuvW/zzuXs/bu57HUXsL58BAmYcp0Lz93PFW+4mH+86RZu+vJn+ehHPoC3gvlhxuFDJbd+9w5MA1u3wkUX7qPf2cc9d/4Y38Kb33gJb7jsAsajKZPpmHdecyX33nM7P3ngXt525ZspJ2soUZMnFu0LbNuQRzGf/KUbiWTLyeVlTD3GuwoBPPPMUZ5/4SjewyCHT3z4/Vx62YXYcpXOMGX/6bu4+46H+co/fpnxBrxq3y5+7k2XEMUBLWjb+tQOmfd+Bp+oKIppAFZ4T6RCFaiEJMszsjwLCpigs2C2Xb25ZyZP4aw2d8mUUigtMW07I3g4UBVaOvIEqumYpgw7AnUxIks0G67lrH172La1w6FDJxgOVLgklCFLLIO+4v2/eA033XQTk8k6ZelQCrBQFydROPbtn+fKN1/GpZccZGnpJOccOI0P3nAtn/ns5zlybEKnH+Faw3gdtg8TxlXBjmHEFVe8ibde/hqo1kh8QUdB4iraFpLYklDTFCOsGRPrmqKZEkeh0qwKKCcrwY4dW5LI4qMJuIr5tMeonrKxOqXXjTjnnLP4yEev58CB01hbPx50LaKiq8CMN5jv5sSZoiwKRsvHKNY9KbuoNlbQbYVpStaPv0QsY6R15GkP14zAD1CqRitDXRdY0+DbAumnOLNBFhmUn0K7gavXWF92lqJoyAAAIABJREFUuGaVcw7sQIspa8sv0rZ9qmZMVdfceus3uPzyS7BuysrqcTqDIc1oiU6eYmkw0zVMUZIlUBbhZeqKDSYrxzAWdu7eA3pAJ40RWCItQwUhIEsUjSkxtQ/CwBgiDcZMca2jLGE6WWPH9i3MDYKUcm1lAtaSJnD33XfznmvehsJhjMV6EagTxlAbizEVURTWjMpiHeEDkzLSoVrJshjnKkwL3kd0uhKtGwbDiBtvfB9Hjj7HyZXV0BpH0rZTlFY43/DSy8c57+A5fPTj19MfaIpymeuuu4b/n6o3DZbsPO/7fu96zunuu86CwQ6QIAiKG7iINEGKpCXSUiiJoiVFkWXZshwpkaJKUhUlVqqSD8r3KMriUuxSKXIsO7EsJVYU2SIj0xIlbiIAbgABECBBAANgBrPde7tvd59z3i0fnrd7RlM1hcHMnTvdp9/lef7Pf/mLz/1/PP6Vr3LjeE43gWE4AW1IvUTFvOUtD/DDP/TXed1953j5pUvszgSqvvzqdVK4yuEBdA00VrE7neAULE+OaYyYsb526WW8fS/33nWBV15+lauXTxiGwoWzdzPtPKkk7rrjPHuzlosvzxmGI2ZTy7QVGJ8i5AYJ4zSs+wFtDQpF3y853N/jx3/sE3zkIx/m7e94GHLP6XzBA/ffzq//2q+gVWQ6LUwnMD9Z8NGPfA9vf9tbefqpZ7l8+RK3XTjDww+/mbvvPceNo8tkBs6e3eHq1e9w4cIOv/zLv8gPfezf4/lvX6QUxf3338/rH7iHplXEOMc3MJ3Cb/3Gr3Db+TtYz6/x/R/5EHee2yEOa/Z2ppADP/WTP8H7P/AIF+64i93OS7FZ4MPf816ISxbzG5w9c8C3v/0cKWfe9vDbufOuu7h86VUUhdnObEPA3rIWN926UmobY6WUSCw2s7ONxd2mk9NKoUlcOHeGX/+1X+Ds4RnScMrepOH6pRd584P38gs//3c5PHvI/s6Uv/d3foqf/1nP0A+03nPl8mUeeeQ97Mw6jo6uAnD27Bn+5//xV7jrnjs4OOwwJDpnue/uO/mv/8Ev4cyE3Z2Ga9eucv78If/Rz/9tTo4X3HH+Ti5c2OVnf+bf52f+jjQa+/v7ADI7inN++GMf5sPf8y7OnDlDHo75z//jn+UTH3s/J/Mr3HF2xtgH/ov/9OfwZoozDaoUTlc3eOtbHiTGBY+85128+53fzb333sewvsps2lBK4k1vvJtf/+//Oy5dvsSss7zh9Xfy8z/3k8RxJIVjMZtHctR++qc+wdefeBKrB97/yDu4/fYDdg8O6PuRyXTKnefOMk091hVWY0/rCh/4a+/k7jvv4JvPXMSqjre/7WHuvecClBV9fyojL9y2ucopE8ZQvWJvGsqLLVnZms+rx37/vymbLDMJ5RQBGnWYCmyZjcZIsu58fo2mnUmlqBqe+/ZFHv3SVzmtlk5nDg9497se5r577yTGkUUfeOyJp3niiSe2TiJ33303H/zgB2kazzCMvPzyyzzxxBNcvHiRlBJOC0Rz91138vBb38K9d9+JM5pYW82QMi9cvMhXv/4kly6/BkWhxow3mvPnz/LQmx7kda+7T+xtrOHZZ5/jK1/+Gs41hDFxeHiOR9733eztKK4cHfP5x7/Ccy9dZLa7iwYmCv7G936Ys2cO+Ysv/CXPvngR1U7xReHHCMWws7PP3Xfdzf2vu5tz53dZ9ddxHlbrU5579kW++fQLxNEyqI6hOIwWLUxKIyWNWA3vfc+7aZzjC5/9HLOpbMrz58/xgfe9k7O3neWZF17hzz7/KFdvnNA4Q1iecOe5fX78Rz/BE08+xWNff4pm9ywxBvbdCT/4/d9PKS2f+9zjvHb1OpnMkJYs1wsefOiNvPNd7+Wli1f4ypefIkaIMZFTRFNwRoktVhKvy3e9+93kAk898ywxFzHFnRr++offy3S2yzhmPvnJP+HG0QmxRnQ0bcOP/viP8uRTT/Ctb32TnCNKW86eOcfDDz/MZDrly1/5Ks8++yyN9+iSWZ3OOdzb5Ud+6AdwWjH0Pe1kWiNBDIvVKbsHZ3j6mRf44ue/Rsmetp3wxgfv500P3ctkalgsT/njP/kCYz+QwsDr77+Xdz78dqatxH/cuHHEM889x7Pfep6rN47IaCaN57aDfe5/3X288U1vZGdvQsxikGqs5ej4hG889TRff/Jprt84lugJLI22PPTQfXzPB9/LwcGMHAuNm/CZf/cFvv2t71SrpcDrH7iLd7/r7ezt3cXnPvsoX/3a17aIxzgE3vCGN/Ce97yXL33pSzz11NPiR1kUb3vrd/E9j7wNpWA9Bp545lt84UuPc7I4xVjLbefO8sh73smbH3w9xJ6wXjKZdiSlJFg0ZbnUlOiqfOOrs39grMnsTeNQOhDjipINlAatJljdopWnHwZQAdQIqqeoEZC9F2MmRYXVU5zdgeIoRVEK9P0c12SMDeQyiM2cPkuJmn69ghKZTVt0KdW0O2O8RxlDLooQEzFlFCI3mEw6Tk5OODg44PHHH+Mzn/lT/sF/9V8yjj1h6IUYYrSI23Pe3Evb80sus2EbNpxLFucQBTEVlDFo2JrbKmDsB2azqcTKQNWxiVA9+44xCTxpjcUaB/XAFcu1IGte5Wq15zB2D3QmplNCXJBLECmBnZKTJYyJlANaZ1wj35cknrS2mmvHGPE1iT6EsF1Hqiaqp2QpyWJ9RJtIP8wJY8DZDqunGOWhQIgrUlqjGAmqBdvgvEHVxPRhDORU8F6SEYahJ8RRuAgloWJA11lWLopchN2ptIyetLWgDLlAzBkdRybpFKUSsUQCGWU92k1QqmEcMmEIKALOFqwR9ymy4/R0KakUMbJaLrl86TK7u7s102zJpOu4euUKFy5coPEN6nP//JcLqO1FthElG6NrplHeztMAcokM/QLrWrTxOD/F2Y5xLIwh0rZNtfYpDIPMNrR3BCUVxWK+wDpL27TbXCnrLK7G0qeYREydZIF45+i8FzFdkko0hEjM4ouXtRIHBhQ7doJKwj5LOYAqKCV2KN57KJq+H+naKd53rJanNA2YrmGZAkMptJMOXYBhZH79BpO2Y3awz43lKYNWnJ3toU9WgMVoX/0DR2Ja0U5gGE4xRtE0u6RgGXvNOisiMo80Wm0ZU9RQ1JzETfzM4RkWiwWz6ZQYFrSzCUE3LIaMsg3WFFwJ9MfXaBuL8w2nQybqBt82TLgBqVByQ8qOMSQymaIDttX0w5rlKrC/fxttu8/i5BRTakWqFbpCLbp6S165epVSoJtO6YdBXCcaQ8gD69VI004Ag3MtKYlhc4iBgzMHnMxvUFSm6xpiFIG79w3GWLEIK4WuspPC0HN6cszZM4cM61V1kwmcLI7Z3Z9yuppjnePg8HbGXpOiYxxCNU6OFHrGNIqfnxYtkVWgSmLsq2OGdRjfUJQhIT6QWimZWeVAIdOPK0IYJKtMKSbTKUY7UoKcoB+CDOa9R5mRnHuaRsvBu4rVLLsaHjPSD3OaVhPHjtVSujnnXbXK0pga4hqj+I163zCOI9NJi9eBlBO+nZK14eR0jTKi9xzHAVMSjVGEfolB/FAzN8NGlRakJYRACCNUsox0Jkm8OV3B2ETJMnRXxaG1Rykxz845UAhonXBeYZ2u7DGD0Z5SLCkpStLVdDmQ80jbSc5ayqMcRkOD1Y0gQDninZMcuDrd37Kja8xHKQVVINQDPBdwTctLFy9SKLzu/vu4/Oor7E47vBPRNApKNUTfdF433SFqpmHJWGPRRtiMIYnYvNRAYO8EugpBxLil/p5WilQz3qK25CIM7828Tcgjals8lJwkRhmZzQ8DGKcwNpLyitV6wfJ0xf7ebUy6veq2lEEFMn2FPNtqzWVIMTLW1POtrVo1h8g5MwwDJIuhwbqAdYkxLkkx4mxHHC1GNYA4GBmbsQ76pCU0R0eUiqBkLaQkEVDet8QYKCWgdCTnEZ1VfYZC0ohJzLKVqhmPuZAK2xR1pzM+LikUxpRYj5GQC0VZnGtrhwyqRGEwG6BYjO5YLldopcRZZ7nitcuXJb3FOfrVmsZ75vM5d9x+B7lkzM/9+Ad+dUNnlQtsk0ystz6NG2cNECsh11h805IzhDFQcsEocEaTU6Bfn6JVARIpjrStpfGKkurgukSszswmDZPWMKwWLE6uE/olioAuCcqIKgFNoMSBOKzQKtM1jpJGhvWSlEeaxmBMJoYVDAMqBxQjKfZQZMbSOEVJIykOWE2ljY9olSk5MoSBrBKxDKzXC3Icif2aO87fhjeO1668SlaRZmLJw4qWwrhe0a9X5DhiTaZpFIoBrTNGF9KY6Vcjujgar3Am4HWisZmJV7RW4a1i0nlaZ3BWUWrVGsc1TaMYw5p+DBQFIY7kcUWjM7udwRDIacQ5sWXq+wWNHjEKum5KjoXV6pSdnY6d3ZbF4jpaZW47f56SMuvlmr3ZBJN6meWYgiFhdKHxhsX8iN2dCXs7E3LsKbFn1jlQmTGMvO7++2ukuaQI7MxmlJLY2ZkSQ8/Zs3vkEkhpYAyixSo5kqIw6LQq9OslaRzIKaAQIW1MiRAiO/uHXDu6jnGKg8NdfONYzOfEMdH4plaHNe3ZFry3ZBJ9f0pOAymsCGHFbNbgnKIQ6YcVq/WSEAes1SgLIQ2Sg2UyzmsmU8901tK1nqFfcXJ0xHpxiqbQOYfTMO0cRgdxDzdCChr6HmcaWt/Qr5dMWou1mcZrvOtom5a2deQ8EsY102nD3u6UlAa8V7StJYY1s2kDZaSxmqFfV1QkQ5WPpjCSxgGjCs5uJluCdsQsdHNTXUu2dnQpYjYHrhhwYZTCVu9TVTRSqiYUEUrA6ozWGV07DKPN1mFGYyqcJ+w/rVJd9xlrClpJd59TJsWM014CUK2pnb9oPTdNlKpdlNGSaOCtQZcke1UVJtMpMSW6yYTpdMo4jHRtQ9c2lCxzaOscVEr+hpa/MYNwt4T9blhxWuvqLSvnnVbI/xtVuwHxg/WNOMJk5OINoXIJNKgiSRSNE8QqxrGywqnOInLZtW0nz5WAc9A4i7eexnU42+KtwzkjGlUlau1SnX3Eskky6rxzTCcdzt5qsF4Nw7VFZVA6YEwCJJPSaFM/LwNFk0sNvUVIeDlHYlgS45KSe4wGjcHg0RhKymgdcTahVJDPNCWGYZTuOIzVWDuiSsIZhXcyDyQFcuhllqaNdGS2xTUdvu0Io2RFOguNk7XRr9b06xGlJIIq5cQ4jAzrnsViIRFg1lJylk48Z/b29qRg3dz2EqNit9hydYJiO1GtP0qBEBPaSJyIM2IlEoY1s51dclaQDI03xJgZh8hYqzwQT8NxjAyLOX62w+lyibOG2/b3Jc8qyuGItcSc0AWcVuRsKTER1j0G6LwnVxslFCgvOgSVMoWE9g2FSMpR3njKpFSYTndIMdP3A962tKYVF2mgsRbvLLPJjE61pFVAZ8Pdd95Lr0YWcYl1knfl2w6tvLAy+yUniwWTqVT01lgwDcY5uuaAXJaE/qR2vIZUN1fOZeuBaZ1hte7R3qEaRykDFCQdwFpUgtZ5dOrpT0+xWkg7tvUUMZ1jtRxwxjH0S6zu2Ns5IAwDIa7ZmcwYx57jq9do/A5TPyOs1lgtXWKphUoBssoYb0hE+tMVhcL+wQ6r5YrVIHEYV69c5vh4TttOiWOkX5+y6tek1JNKYne/YehPaVuPdU21BUv06xp9Yyy2tVjrSDGRU5EDyFqGfuTkdMnBmbMUBm4c3cAaTddOUcUSxzXjmOvXCzFpXPfsHZ5BlcSka3AaTufHrNdL2qal61omU0vIhSFKavVyteS077EGtAajhdEmbDXxhdzrZjSuhaIpWYSa9f5g0naULJqx1jUMqzVu4ikRcpCInjiOtfKX2ZbTmq5RLBc3WC+PSElExUY7YjileDidz1GTCVoVjFVoC1ZZlLbi+K5aKEUswGKi8Z62bVkPvVx4MRAqooJStL6teyBRUsEoLYe/QghMZKjFJ5vDrhSM1ljj0coK9BMV3hpJFRjFXaVtffV0HcVAAel6tHK0foY1jrFfU4oE32pTL10kob7k2i1VJ/uUEilHiGsKSpz6leK0H3FNK/MvpTg4PMNqKVFEWksUj6phwpvvE0JgiMP2gtvMVoCapGDYtN2CPGW5rI3BasV6JetdAdoYJl2HKgWdRQdZyHXuJu1lziMKg9amcg4MRiuMrtKJEtGl4JzFaocqHpVVPQsySoNRBmMsxTQMw8jQj2hdqlVbwNgi+6V2n3Jea7H8c4pUAoosZUmRNdj3I1ZbtLLkIkQYTYYsLk8xRRI9xmSwCms8znjiqBjWEW0TNJFCIpcGrTy+0Ri1IdkoQhhlXJELOsraUwWKMoRsSMmQkyHEyiZXmaaZkFLPOAaMczS2QbWWQcWttkyieQqpaapNYLUys5b1clkLalnb5hd+8kO/qqp4UKDGWy80XS+1soUblVaw0XJFsYaR2x/mJyei1dCivF+vlygl2hqVoXUNcUxopWldQw5J8qqKmICWVGqAn1yuw9BTUsZr0YSTQWWFKpJfo5TamguLkbBnzImUM8rWbCyjQGuaSYf1Lf0Y8d2U2e4eCoMrLa5p0V4cOpQylATDIkDU6CI2NyEnhjRK7lYuhFiIGYEcpESlnXSs+p4hZLSZUmhZrQuFHm1EYKwqvITS5KKIpZBQTHZ20c6xHgPKGMbVSs4X05CKEZuxlPEK9iYt86MjZtMd2m6HdR/wTnLaZrMDVGkIIzgrLv5GSxVutcFoh1Ueg0TVoFPdloWsNGhFUuCaRpy1U0QbiUdBK7Q1xJiYTCYYbWmaRoayzqIUOG/Z2ZmIbVe/IqaBcQyEEBFnxkJJ0qGVIpWVqZt/uVqhtKadTDmen9JOWkoJFCLWagkuzAL55VxoGs90NqFtBU4aQ2LoB3KKkGsHkBLUeU6MmTFEQhB/vqwMWCcYf8445+iaTjbyELHKMvFTnPKEPpFHmeWEKK9/01G0fsLu9JAcDKpYNKY6tattjBEly99RRbrCKjWQX2dC6IlhoGlE0G+Q9auNyGSoKEm/Fo9Ca6X7MkbVGR21Ehf7n03OX04bsgOUXCiCAaHQlGTJycoBrNSW6g+5skMVqkhGnCoN5BaNJ0VFjmWL5kCWCttZvG3IUZOTxagWsiWFNePYyxmiZM7C9nzRW6gvpvqa40jrqKn2mlgKKHGBmEwmUHVh69WS6aSlXy1lfWlTu70i3y/GbTbd5lzbdGvWWkrJIi7PWS5BVQtMrUklY5ynm05xTVtnQIXGWHSR802QAfl1Lhl904Gilv61KUiS4OGcQmvxog1DklllNuQkcznRDoplU8qeUgylaLzv8L4jZ0Xjp2gtptxae8CSsyIVQ8iKPvZEIrFExlSI2dBM9lFWvCSLthjf4roJTjVYZbEOnBObKKM8WnUYZpCdwOZO4yzkkoAJqAaKIWdFGBNDH1BF+rk4RKHxp4zXFu8bQjGgWmJuCNGRigXl6CYT0Y7lTAqZNBbRqikD1T/VVtaiAlKKrFereqZp1useawzdZMLQ99hQKxWtzTbwLMWEsdLyF/R24GitZAUVJM5+TGJ4qorCaMt00mI0DEG0LsYIplpyoYyFkCLWWOKY6PO4TRMdhoEUM9pZvLGopDE6y2bGSEURIiWJC8cQJC7cOkerNbbCK8o6lDLEKK/XFBFaKq0IWRaq9g1ZSURGQRMiGGsJYyCqjG8bVDF473DFkWMRGEw7GtOR0LWj0kIjNw6jBH5ZDmsSFmMdueYzFS0BoSkGyWJDoZ1gykkVslK03YRL125gnWNnd4e+7+lci9eGPmsykqHmNcSVRJ63zQRVNGlM5CAC6ZgU/TqhVIs2inEsQl3XVv5dLVZHFIsqYveTlXQpSmmsb+SSzZnTdY91HlWd55WphU1MOG8l6UBphqGIeW2/ZmdnRoojfZ+YXz1i/2BP3DycYwySFts4D8g81FojM6MCbTuhLR0xZ24cH4GW8MpcJByVHFBa01hPGBRZy+aKcUTbgrWOfhxpG+loUsrkrIVxWytrZZy4cZdEiIWgCkmJMXbKWn4mRegjrZ9gikJlTYyJNGS6piPlgjaWppkR4xpIxFFxsl6SoyWXwv7uIfPFNeIYa8isEf2issQYJNaihnjmLCnfaOg6T8mBFAN2OqEUKRiNk2o9RSGnQKbve7QCq6XDWa3XxDjStq3M7Jww+6jzImsEiqK6X+Qo/pCleDBJLhVTrZ6Upms7ctKkqImp+hxqzzgmUB5vDTAy9D2FoZIeFK13MksuHqumgKJtA6erY0l9N0IWibHQNGarGypIxp53DqsbyrjAGINXmn490HYzYqlkjCyhjl3XYoyE4e7tH8gsphQhgylN0zT40myLcdEiOnF3jFGKnpJrF+ApqOrPaFmt5xwfn7DqewrQdh0He/t0nRXxPkXOSGtqdyZ7OtauP0XhDRSlUUVg4pJHQhzIqWBMC0Vt16YxupqpJ/lcEMKKNnKWrPrE0VHPtWsXGceRkiXA9uy5sxwcngGtWS5PCUk8cpV2ZOOABtvtc7pMHJ/0LBenKCXP/vzsgM40KN2hkb0Wg5x3uqzRSshAG+LMMKx59fJ1xiAXS+M9h/t7nDs8Sxx7+tWiauUMKkMcEiEqsm9Z93Bysub4ZM1qPZBKwvnMubO73HZ2F+sUsR/QWLEc04Dd+G2KdKJtO1577QpN09J6L4XwJkS6FNTjv/vfln4YSDFKwF3TYqv7+KaV3UCRxlrariERt9XeJqYlRsmCatuWMYysViu0VjjvsdpALow1RM2YmxZZN1OuRaAtYZ+yWNCqbiKN3qTB1pY8bYRzG2qyscQgl9rNilGqoHILVm6NRYl9OwVFKpIEkGoUBKWglUUnhcFglNA/MwVlAJ0JsUchVWVJhZQDOQWm0xYQi6UUMzkplLI4ldAlSdBkVhIjYhuUFU89lGUIiVQqu0obvN24O0jX7KzFG4VKI6SBOKwJQ0/TthhjWfUjGAfa4n3H3t4By9MV62GF0mB91WOFiLUerS1jP2AqYaCw0XSIH1rTtdsAPIFZ5NmPMRJSQqGwtesoShZ7ylmgtEagp7x5ptpibYNWinG9Zlj3eGPp2lY0haXQdB0niwWL5ZLJzozFao0yirZaGQ3LFd5YjDJo5XC+Yayhpr6VVNqcZBgewsjO7o6EsC5PZS0ZzWQ2Y4hx+x6OTo7wjWU6mcj8Ixda7+isk0tbaYiJnW6KVpocE6dxQHlD4yzrxRJSZuIneO1wthEacYigMs4bmVGsR7wylUEXKJRtHl9MkSEESqkXrhLhqXENRWnQGmW1+IRqiEkuDemyJFXdakMOmVy739m0I4SB08UJ1ir69RqtxDZLWIcKqy3GOAqKWAkwShVQG5ssMd+VubikVGhtmbQdxsoMEqLo/0rY7klvJyh87fgkxmdIS1JJKCWFnlK6xrZUqI6MNmCtkqRqbRlO1sQgiQTOS75hGEfaroWSKVm6SK2VRLgUcb631knxWC82pWC9XqMUWKNpqmF6ThFrB+anN+hm5zg5LRycv4+vfuNZPvnpT/PFx7+E0op+HLlydcX+Xstdd9zNQ6+/n+/70Pu4956z6NyzN/XkYaAxDeMqkrMhKwXGYFw1ldhEzaQoZ1vNixzHSOM7nPOkFLDWYJ1GlQIhcWOZmBzeyZPfeoXf/f3/h6eefo4rly+zv9uwmA/M9i133HM3H/v4J/ixH/4+FldfxBAYhyW5BM7fcT+Xrq34/GPf5A//9Z/yyis3WJ8s2Z/OZMyz0/HBD7+PH/zo+7n/zl2WRy9j8oDTmhALy1GxSob92+/mDz/5J3zq3/0p168e0TUzSlToopg2nu/90CP82N/8G1jdM44LJq1ltVqSI5huh6Wd8pdffIxPf/LTPP+tl6XD7HY5XizZ2dvhfe97Fz/40ffzptdd4OTqSzStJ8gFgVaCqoxDz3q14srlKyxPTzlzeMh8PufM4SHnz53nZH6C+aW/9X2/Sj3slRIob6xurloJ7OjsrRExsqGk8r0ptN7cjtbZWvlIgGVKN2NaUq2ojDXoGkhkrK5q/CLDYFWzy2qbLkynTMxyeaWcKErYcbkexNu5XpaKV1cLG8XGbLTUVl